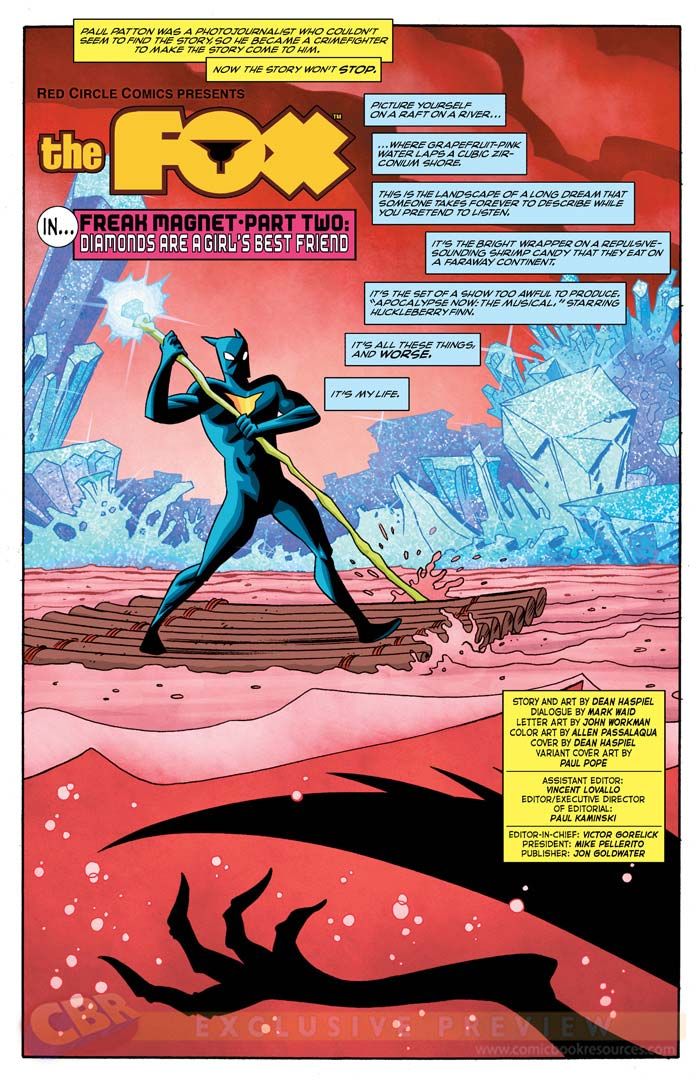 CLICK for 5pp THE FOX 2 preview here:
http://www.comicbookresources.com/?page=preview&id=19266
NEW RED CIRCLE SERIES! From the world of the New Crusaders, comes the high-flying FOX! Emmy Award winning writer/artist Dean Haspiel (Billy Dogma, HBO's Bored to Death) and Eisner Award winning writer Mark Waid (Daredevil, Thrillbent) continue the saga of the legendary, pulp-style hero The Fox in FREAK MAGNET Part Two: "Diamonds are a Girl's Best Friend"! When the beautiful Queen of Diamonds enlists our hero to save the diamond realm from the deadly Druid, the FOX faces a whole new dimension's worth of pitfalls, peril and—familiar faces?! Then, acclaimed writer J.M. DeMatteis (Abadazad, Justice League 3000) and Eisner-award nominated artist Mike Cavallaro (Parade (with Fireworks), The Life and Times of Savior 28) take us back in time for an ALL-NEW story featuring the world's first patriotic super hero and leader of the New Crusaders: THE SHIELD! What connection does Shield's top-secret mission in the arctic have to do with the Fox's diamond-studded adventure? And what ultra-powerful villains have arrived to wreak havoc?? Read on, dear reader—The Fox and the Shield have their work cut out for them! Featuring all-new variant cover art from acclaimed artist Paul Pope!