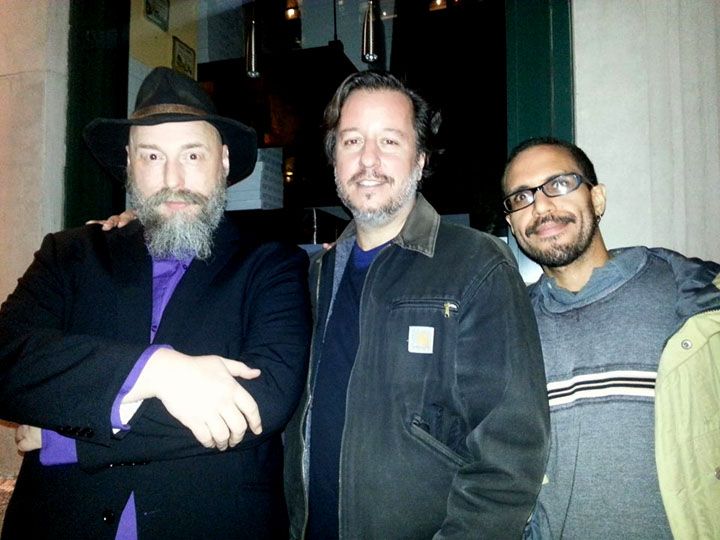 (Warren Ellis, Dean Haspiel, + Frank Reynoso, NYC, November 21, 2013)
I finally got the opportunity to meet Warren Ellis, one of my favorite writers and, certainly, one of my living heroes. Warren has always encouraged and written nice things about me and my work as I've climbed the comix ranks (and walls - tearing my hair out). He was the first to champion ACT-I-VATE when I tried to innovate the way we delivered personal webcomix and even he wrote the introduction to The ACT-I-VATE Primer. Warren is a mad, forward-thinker who excavates the ugly truths about humanity versus technology while exposing the heart of why we do what we do. He's written great Marvel & DC comic books and lots of creator-owned collaborations, including Planetary, Global Frequency, Desolation Jones, Fell, and a slew of others. If you haven't read Warren's prose, I recommend you start with his first novel, Crooked Little Vein.
I met Warren at a NYC event he spoke at last week, as reported by Hannah Means-Shannon at Bleeding Cool (including an audio recording worth listening to). It was epic.
http://www.bleedingcool.com/2013/11/25/warren-ellis-finds-murder-just-makes-your-life-better-an-evening-of-hit-men-burglars-secret-agents-and-thieves-in-new-york-with-full-audio/