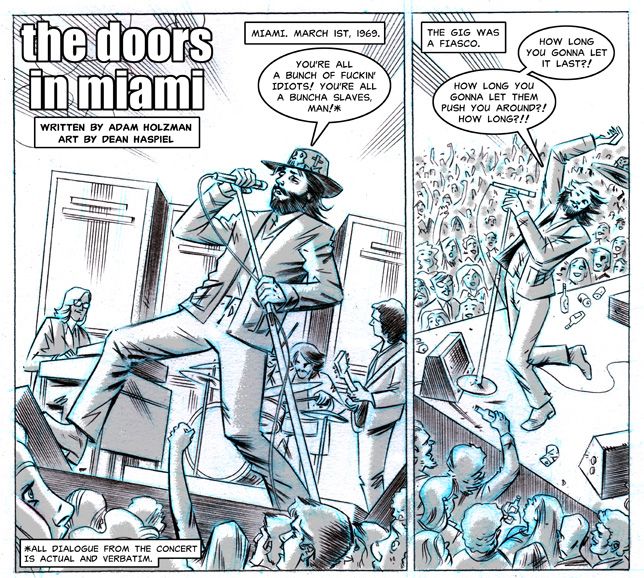 I had the great fortune to be hired by recording industry innovator Jac Holzman, the man who started Elektra Records, to collaborate with his son/musician Adam Holzman, to bring to life in comix form the now infamous "Miami Incident" and tell The Doors official, sanctioned tale of whether or not Jim Morrison truly exposed himself on stage via the new Doors App which debuts today.
Here is an excerpt from the official press release:
"Among the other centerpieces of The Story section is a graphic novelization of the notorious Miami Incident, where Morrison was falsely accused of exposing himself during a 1969 concert. The infamous episode comes to life here through drawings by award-winning comic book artist Dean Haspiel, words by Adam Holzman (son of Jac), and rare audio of Morrison recorded during the show. This section also includes the once-confidential FBI report, the arrest report, a portion of Jim's tongue-in-cheek testimony, Morrison's mug shot, and his posthumous pardon issued in 2010."
http://online.wsj.com/article/PR-CO-20130507-906159.html?mod=googlenews_wsj
The New York Times interviews Jac Holzman:
http://www.nytimes.com/2013/05/07/business/media/miss-the-music-of-the-doors-theres-an-ipad-app-for-that.html?_r=0
Hannah Means-Shannon reports The Doors App at The Beat:
http://comicsbeat.com/the-doors-app-tells-morrisons-tale-through-haspiels-comics/
Watch the trailer:
http://www.youtube.com/watch?feature=player_embedded&v=aqWUFI9e8oU