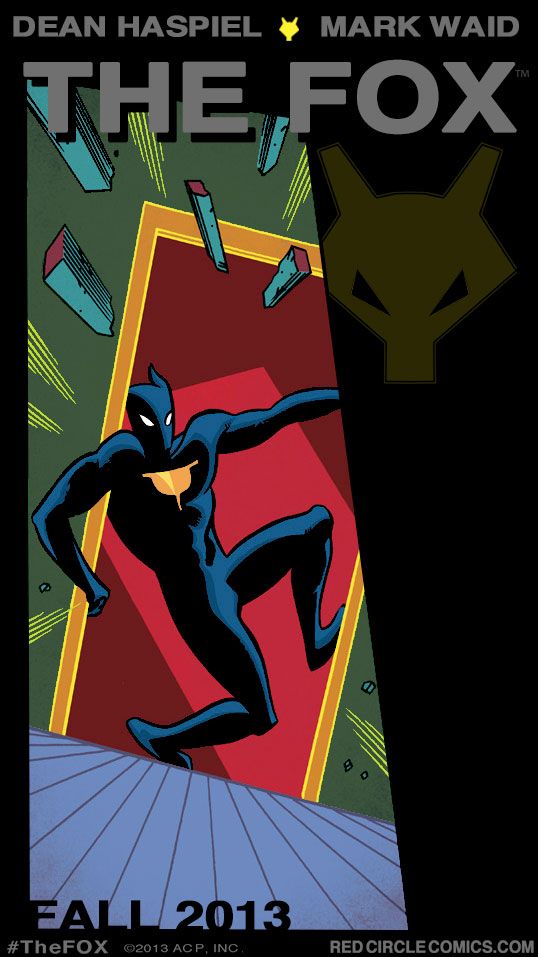 From the Archie Comics/Red Circle press release:
http://redcirclecomics.com/2013/04/22/red-circle-comics-announces-haspiel-and-waid-to-team-on-new-series/
Eisner Award winning writer Mark Waid and Emmy winning writer/artist Dean Haspiel are teaming up to launch a brand new series – The Fox. Taking place in the Red Circle universe, this exciting creative team will deliver an innovative, action-packed superhero story starring the fabled pulp hero.
This thrilling new addition is a shake up to the Red Circle lineup. The previously solicited New Crusaders: Dark Tomorrow will receive a new release date in early 2014. The critically acclaimed New Crusaders series received high praise and year-end "best of" acknowledgements, dubbed "one of the most enjoyable and surprising books on the stands" and response to The Fox will no doubt echo that sentiment.
The first volume, New Crusaders: Rise of the Heroes, is now available for order in Previews. In addition, this summer's forthcoming New Crusaders: Legacy TPB features both new and iconic stories including Alex Toth's run on The Fox, and contributions from comic book legends Steve Ditko, Carmine Infantino, and more.
Red Circle Comics is home to Archie Comics' super hero properties, most notably The Shield, The Comet, The New Crusaders, and The Mighty Crusaders. Consisting of super heroes who emerged during the Golden Age of comics and remain relevant today, the Red Circle stable of characters have a storied history that continues to grow denser with the highly publicized New Crusaders launch.
http://graphicpolicy.com/2013/04/22/haspiel-and-waid-to-team-on-new-red-circle-comics-series/
http://comicsbeat.com/waid-and-haspiel-team-on-the-fox-for-archie/
http://www.comicbookresources.com/?page=article&id=45052
http://www.denofgeek.us/books-comics/the-fox/102239/mark-waid-and-dean-haspiel-team-up-for-the-fox