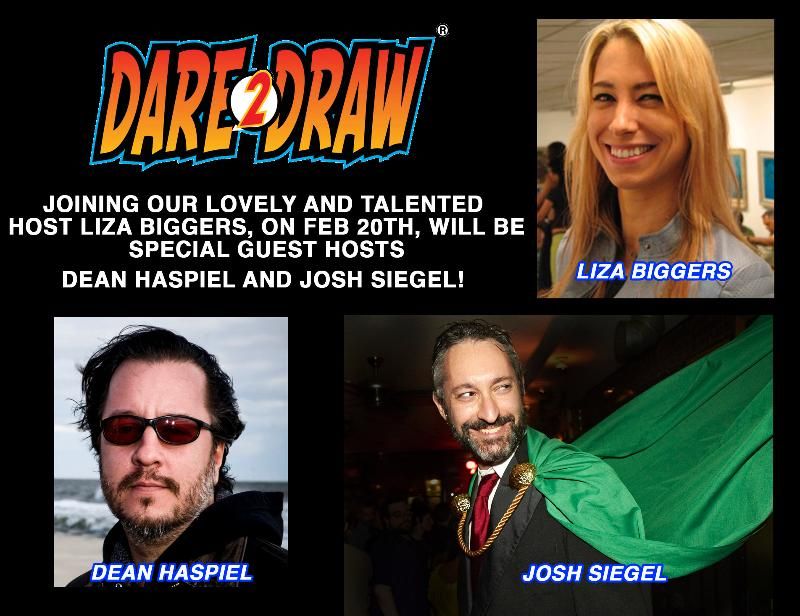 February 20th, DARE2DRAW will be celebrating the 7-year anniversary of the artists collective, ACT-I-VATE, one of the pioneers of digital web comics. Joining Liza Biggers will be Special Guest Hosts, Dean Haspiel + Josh Siegel at Society of Illustrators! D2D will also have dynamic action models bringing the classic Captain Action and Lady Action figures to life!
Come Dare2Draw!
Feb. 20th / 6pm – 9:30pm
$15 per person. Pay at the door.
Society of Illustrators located at 128 E 63rd Street, NYC
Featuring 90 minutes of dynamic figure drawing, with live-action models & props and our signature Dare2Draw "Quick Draw" Contests, with all art done on Blue Line Pro boards. The pro art is auctioned for artists-in-need.
_________________________________________________________
*We'll be giving away some awesome stuff provided by our Sponsors*
***Conveniently located near all trains—easy to get to***
* Dynamic Action Models: Captain Action and Lady Action
* Good lighting and plenty of table space
* Special guest artists
* Low drink/snack prices
* Artist demos
* Networking with other artists and artist groups
* 30-Minute "Quick Draw"
* Contests and prizes
* New "Quick Draw" Sketchbook Reload
* Discounts from sponsors
* Art posted on The Big City Dare2Draw Website
* Portfolio reviews
* Free Wi-Fi
* Opportunity to promote your own work and websites
…and much, much more…
****Characters for The "Quick Draw" Contest will be revealed 24 hrs. before the D2D event on twitter: Dare2Draw
Twitter:
https://twitter.com/Dare2Draw
For more information, go to: www.dare2draw.org