I had the honor to write an introduction to the first collection of Michael Allred's IT GIRL by Jamie S. Rich and Mike Norton & Co., and a post-coital pin-up for Bob Fingerman's definitive MAXIMUM MINIMUM WAGE graphic novel, both coming out in March from Image Comics.
--Dino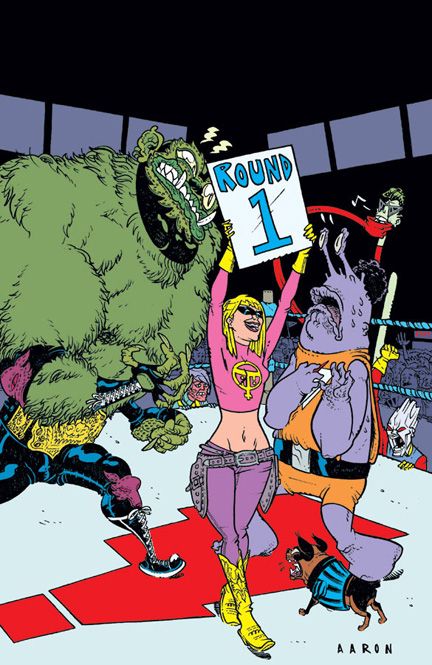 IT GIRL & ATOMICS ROUND ONE DARK STREETS SNAP CITY TP
story JAMIE S. RICH
art MIKE NORTON & CHYNNA CLUGSTON-FLORES
cover AARON CONLEY, MICHAEL & LAURA ALLRED
introduction DEAN HASPIEL
Snap City is under new guardianship, but no sooner has It Girl decided that the streets are hers to protect then she and the other Atomics become embroiled in an inter-dimensional revenge plot. All-new adventures of MICHAEL ALLRED 's kookiest creations, with art from the Eisner-winning team behind Battlepug.
Collects IT GIRL & THE ATOMICS 1-6
MAXIMUM MINIMUM WAGE HC
story / art / cover BOB FINGERMAN
MARCH 20
360 PAGES / BW / OVERSIZED / M
$34.99
During its original run, MINIMUM WAGE racked up critical acclaim and a devoted following. Why? Because each page of Rob and Sylvia's workaday saga boasted uncomfortable truths drenched in bleak humor, presaging squirmy shows like Louie and Girls. Set in a New York so real you can smell it, this definitive edition also includes a color bonus section featuring the original cover paintings and guest pinups by PETER BAGGE, DAVE COOPER, JOE DATOR, GUY DAVIS, HUNT EMERSON, GLENN FABRY, DEAN HASPIEL, GILBERT HERNANDEZ, JOE INFURNANI, DAVE JOHNSON, JOHN KERSCHBAUM, PETER KUPER, ROGER LANGRIDGE, PAT McEOWN, TED McKEEVER, MIKE MIGNOLA, KEVIN NOWLAN, DAN STEFFAN, JILL THOMPSON, JEFF WONG and BILL WRAY!
To see/read the rest of Image Comic's March 2013 solicitations:
http://www.comicbookresources.com/?page=article&id=42669