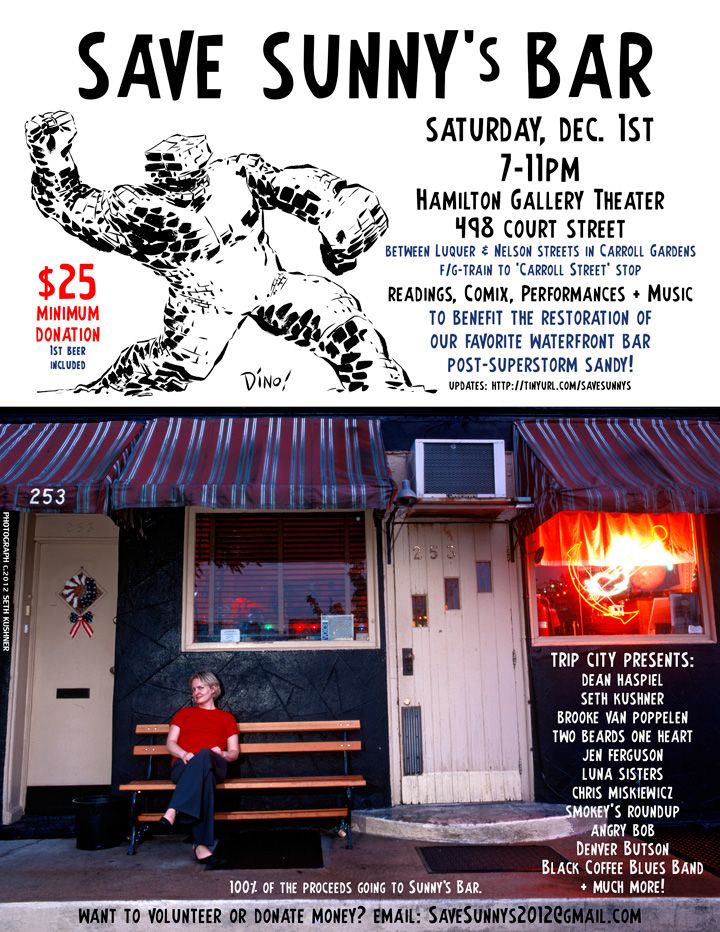 BENEFIT UPDATE:
We're very excited about all of the positive RSVPs that are coming in for this benefit. Due to the overwhelming response and the limited space, please come to your favorite segment of the evening (as scheduled below) with the understanding that we will most likely have to Rotate the Room a Couple of Times in order to Make the Benefit as Successful as possible. Luckily, there are great bars and restaurants just a few yards from the show so you can plan an evening of fun.
Thank you, we appreciate your commitment to Sunny's Bar.
SHOW SCHEDULE
6:30 Doors Open
READING/POETRY/COMIX 7:30 – 8:30
Chris Miskiewicz
Denver Butson
Seth Kushner
Jen Ferguson
Dean Haspiel
Jeffrey Burandt
COMEDY 8:30 – 9:00
Brooke Van Poppelen
Angry Bob
LIVE MUSIC 9:00 – 11:20
9:00 – 9:10 Two Beards One Heart
9:15 – 10:00 John Pinamonti
10:05 –10:45 Black Coffee Blues Band
10:50 –11:20 Smokey/ Luna Sisters
11:20 – 11:30 Sunny & Tone
Are you missing those great evening hangs at Red Hook's iconic SUNNY'S BAR? Well, so are we. Superstorm Sandy gave Red Hook a beating. Like the other businesses in the neighborhood SUNNY's BAR is slow at recovering and in need of major funding to reopen – so TRIP CITY and the Hamilton Gallery Theater are hosting a benefit to restore our favorite waterfront bar and bring you a SUNNY'S night out on the road…
http://tinyurl.com/savesunnys
Come out on Saturday, December 1st, 2012 from 7 – 11pm and enjoy an evening of Readings, Comix, Performances and Music!
Minimum Donation for entry is $25 – 1 complimentary beer is included with this donation. 100% of the evening's proceeds is going to SUNNY'S BAR.
TRIP CITY helped curate a line-up of great talent who will entertain you with Readings, Comix and Performances by Dean Haspiel, Brooke Van Poppelen, Seth Kushner, Jen Ferguson, Chris Miskiewicz, Denver Butson and Angry Bob. Enjoy live music by one of SUNNY'S favorite, regular bands: "Smokey's Roundup." Also performing is Jeffrey Burandt's newest band, "Two Beards One Heart," debuting two of their latest songs. Plus you'll be treated to some live blues music by the "Black Coffee Blues Band" and the evening will conclude with none other than SUNNY'S own Tone Johansen performing with the "Luna Sisters" (Aura Rox Tsanos and Jennifer Milich)
More about the evening's Host & Talent:
The Hamilton Gallery Theater (Anica & Dimitri Archip's house) is located at 498 Court Street, between Luquer & Nelson streets in Carroll Gardens, Brooklyn, NY. Take the F or G train to the "Carroll Street" stop.
TRIP CITY is a Brooklyn-filtered literary arts salon:
http://tripcity.net
Dean Haspiel –
http://www.deanhaspiel.com/
Seth Kushner –
http://www.sethkushner.com/
Chris Miskiewicz –
http://welcometotripcity.com/contributors/chris-miskiewicz/
Brooke Van Poppelen –
http://www.brookevanpoppelen.com/
Jen Ferguson –
http://www.artinchaos.com/
Angry Bob –
http://www.angrybob.org/
Denver Butson –
http://www.denverbutson.com/
Bands:
Black Coffee Blues Band -
http://www.popachubby.com/BLACKCOFFEE.htm
Jeffrey Burandt + Peter Boiko = Two Beards One Heart –
http://welcometotripcity.com/contributors/jef-uk/
Smokey's Roundup –
http://www.smokeyhormel.com/roundup.html
Luna Sisters- – the beautiful trio of Tone Johansen, Aura Rox Tsanos and Jennifer Milich