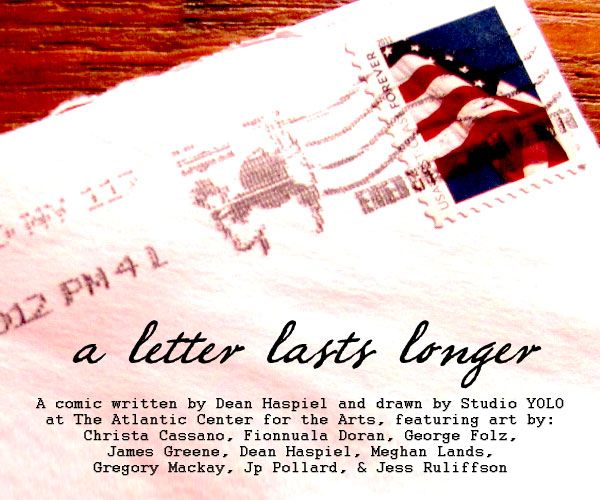 Fresh off the heels of his three-week comix residency at the Atlantic Center for the Arts in Florida, "master artist" Dean Haspiel and his eight associates did a storytelling exercise where they illustrated text written by Haspiel in nine different ways. "A Letter Lasts Longer" celebrates the power of comix while spotlighting the poignancy of interpretation.
http://welcometotripcity.com/2012/10/a-letter-lasts-longer/
Robot 6 at CBR gives the project props:
"It's fascinating to click through eight comics and see the differences — and the similarities — in the ways the creators interpret the script. It's just a scrap of reminiscence about receiving a letter from a man as a small child, and the reflection that letters last longer than computer media. Most of the cartoonists took this to be the story of a father writing to a child, but George Jurard imagined it as a love letter in a remarkably rich and detail-filled comic. And while most of the artists used fairly conventional paneling, Jp Pollard and Christa Cassano spread it out across the page in interesting ways. Haspiel himself also drew a version of the comic, and the whole group makes an interesting exercise in compare-and-contrast."
http://robot6.comicbookresources.com/2012/10/variations-on-a-theme-a-letter-lasts-longer/