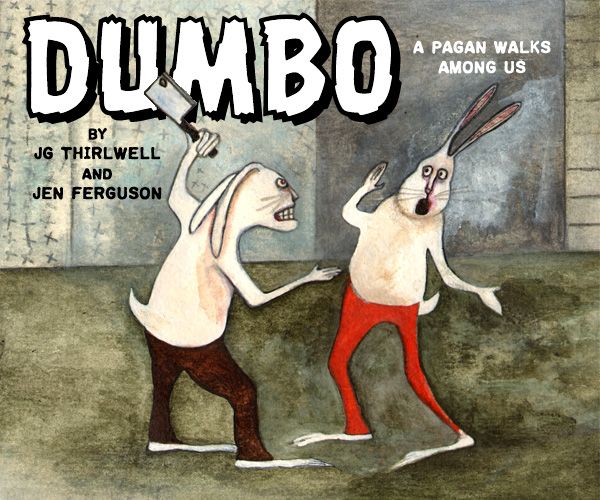 http://welcometotripcity.com/2012/09/dumbo-a-pagan-walks-among-us/
"DUMBO: A Pagan Walks Among Us," written by JG Thirlwell and illustrated by Jen Ferguson, was originally commissioned and edited by me and published in Cousin Corinne's REMINDER #3, and was performed in front of a live audience at BookCourt; filmed by Michael Furth for The Comic Archive:
https://vimeo.com/27364593
JG Thirlwell is a composer/producer/performer based in Brooklyn, who also works under many pseudonyms including Foetus, Steroid Maximus, Manorexia, Baby Zizanie, Hydroze Plus, Clint Ruin and Wiseblood. If there is a common thread to his varied musical styles, it is a dramatic intensity and an evocative, cinematic quality. Thirlwell is also featured as producer or remixer on a wide variety of artist recordings, including releases for artists as diverse as Nine Inch Nails, Excepter, Jon Spencer Blues Explosion, Lydia Lunch,The The, White Zombie, Coil, Z's, and Swans. JG has completed commissions for Kronos Quartet, Bang On A Can and LEMUR and is also a member of the "freq_out" sound-art collective, who create on-site sound and light installations. JG performs live with a chamber version of his Manorexia project, and also scores "The Venture Brothers", a cartoon on Adult Swim/Cartoon Network. For more info please visit www.foetus.org
Jen Ferguson lives and works as a full time artist in Brooklyn, NY, where she paints and creates strange worlds through which to filter a life of quixotic artistic endeavors. Jen also teaches art to kids at Possum Paint Studio. Jen's art is featured in the Blue Ribbon Restaurants where she created the menu art and décor since its inception, and was published in "Art of the Brooklyn Bridge: A Visual History" [Richard Haw, Routledge 2008]. Jen has created wine label art for Brooklyn Oenology, and "Railbirds," an ongoing drawing project inspired by the Aqueduct Racetrack. Her paintings were featured in HBO'S Bored to Death. Jen's work may be viewed at www.artinchaos.com and jenferguson.wordpress.com; her prints are available at artinchaos.etsy.com.
Jen Ferguson will have an open studio at the DUMBO Arts Festival this weekend:
http://welcometotripcity.com/2012/09/jen-ferguson-dumbo-arts-festival/