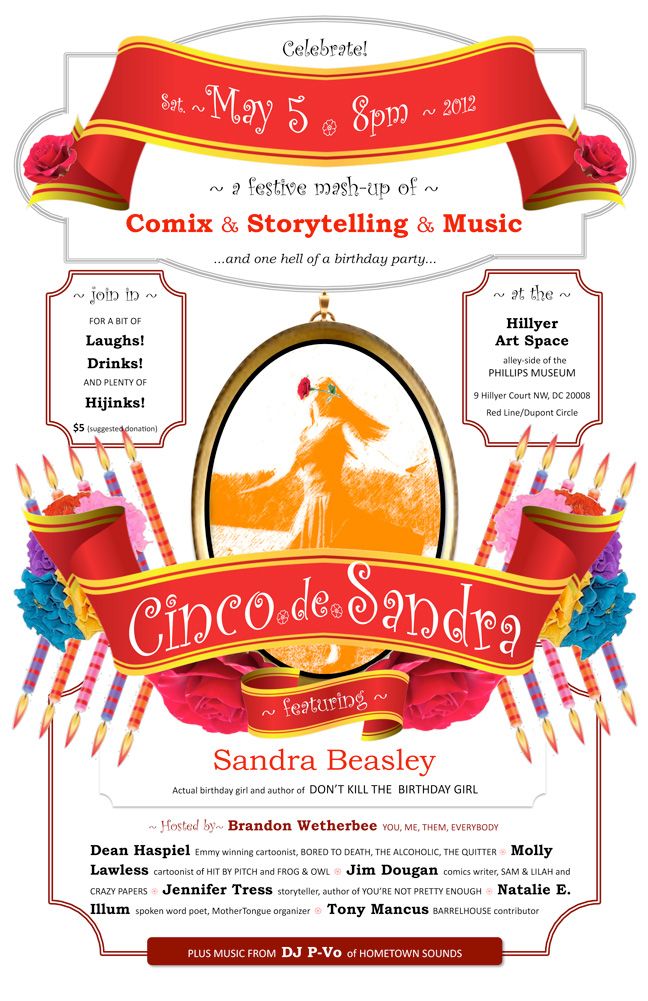 CINCO DE SANDRA: A CELEBRATION OF COMIX, STORYTELLING, AND MUSIC
On May 5, 2012, an all-star lineup of DC and NYC storytellers will come together to blow your mind with live performances of poetry, comix, and stories at the Hillyer Art Space in Dupont Circle. Venues represented include Trip City, Act-i-vate, and Barrelhouse. And after that? We'll get the music spinning.
CINCO DE SANDRA's lineup of performers includes:
Sandra Beasley (author of DON'T KILL THE BIRTHDAY GIRL, I WAS THE JUKEBOX)
Dean Haspiel (Emmy winner for BORED TO DEATH title sequence, artist of THE ALCOHOLIC w/Jonathan Ames and THE QUITTER w/Harvey Pekar, creator of BILLY DOGMA)
Molly Lawless (cartoonist of HIT BY PITCH, FROG & OWL)
Jim Dougan (comics writer, SAM & LILAH, CRAZY PAPERS, others at ACTIVATEcomix)
Jennifer Tress (DC-based storyteller, author of YOU'RE NOT PRETTY ENOUGH)
Natalie E. Illum (Spoken word poet, mothertongue organizer)
Tony Mancus (BARRELHOUSE contributor and co-editor of Flying Guillotine Press)
Plus, the whole shebang will be hosted by man-about-town Brandon Wetherbee (YOU, ME, THEM, EVERYBODY) and featuring the sweet sounds of DJ P-Vo (Hometown Sounds DC). We will have a merch table. We will have beer and non-beer. We will have a helluva lotta hijinks. And, in case you were wondering, we will have a birthday girl on hand: Sandra Beasley.
Be there, or be…
...Just be there.
Facebook event page:
http://www.facebook.com/events/255811644513842/