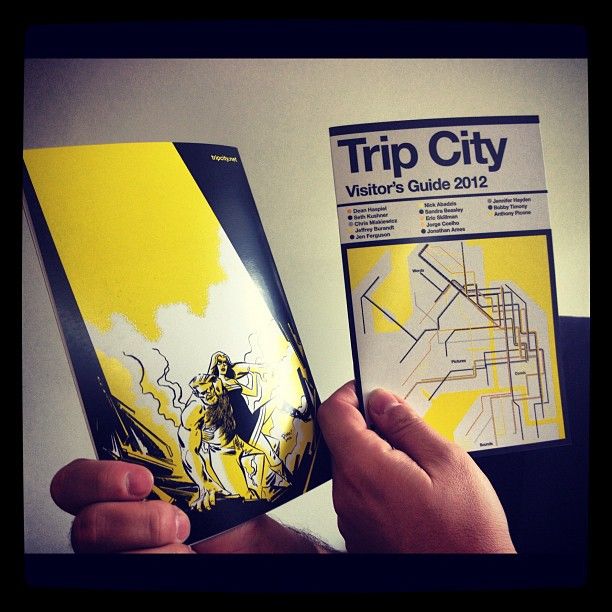 Hot off the presses! We will have fresh copies of the TRIP CITY VISITOR'S GUIDE 2012, our very first literary arts print anthology available for sale [$5] at Jeffrey Burandt aka Jef UK's table [I2] at the MoCCA Fest this weekend [April 28 -29, from 11am - 6pm], located at the 69th Regiment Armory, 68 Lexington Avenue in NYC. Swing by and pick up your TCVG, plus, American's UK rock-n-comix.
Photographer, Seth Kushner, will be at the powerHouse Books table [B6] on Saturday: 11:00-12:30 and 3:00-4:30 + Sunday: 1:00-2:30 and 4:30-6:00, along with writer, Chris Irving, to sell and sign their gorgeous tome, LEAPING TALL BUILDINGS: The Origins of American Comics, as well as, sell exclusive LTB posters designed by artists, Peter Kuper, Becky Cloonan, and Dean Haspiel [who will be signing from 3-4pm on Saturday].
On Saturday be sure to check out:
4:15pm Harvey Pekar's Final Projects – ROOM A
Jeff Newelt, Joyce Brabner, Joseph Remnant, Rick Parker, Sean Pryor, Dean Haspiel, JT Waldman
Celebrating the life and work of comics pioneer Harvey Pekar with his widow, and writer in her own right, Joyce Brabner, joins a group of his artist collaborators.
On Sunday be sure to check out:
11:15am Workshop: Drawing with Rick Parker – ROOM B
Rick Parker (Beavis & Butthead, and Papercutz)
Join cartoonist Rick Parker for an insightful, funny and hands-on workshop in cartooning! This workshop is great for cartoonists of all ages.
2:00pm A Discussion with Josh Neufeld and Shannon Wheeler – ROOM B
Josh Neufeld (A.D.: New Orleans After the Deluge), Shannon Wheeler (Oil and Water, Too Much Coffee Man)
These two creators interview one another about their work in comics, especially as it relates to their approaches documenting tragedy on the Gulf Coast.
2:15pm Memoir – ROOM A
Calvin Reid, Derf, Peter Kuper, Jennifer Hayden, Mike Dawson
Makers of autobio comics discuss filter their lives through sequential art.
***
And, finally, don't be shy to whoop it up at the MoCCA Fest 2012 Official AfterParty, produced by Jeff Newelt aka Jah Furry on Saturday, April 28th from 7pm – 10pm at the Village Pourhouse, 64 3rd Ave (at 11th st), New York, NY 10003
A TITANIC TEAM-UP
The MoCCA Fest 2012 Official AfterParty + HARVEY PEKAR's CLEVELAND Launch Party!
Live Music by DANIEL JOHNSTON
+ Special Appearance by JEFFREY LEWIS
+ hosted/produced by JEFF NEWELT
+ DJ BRIAN HEATER
+ TOASTS to LEAPING TALL BUILDINGS: The Origins of American Comics (w/photos by Seth Kushner); BLUE graphic novel by PAT GRANT; Lit/Arts salon TRIP CITY: and the 6th Anniversary of indie webcomix collective ACTIVATEcomix.
***Sponsored by Top Shelf Comix & ZIP Comics***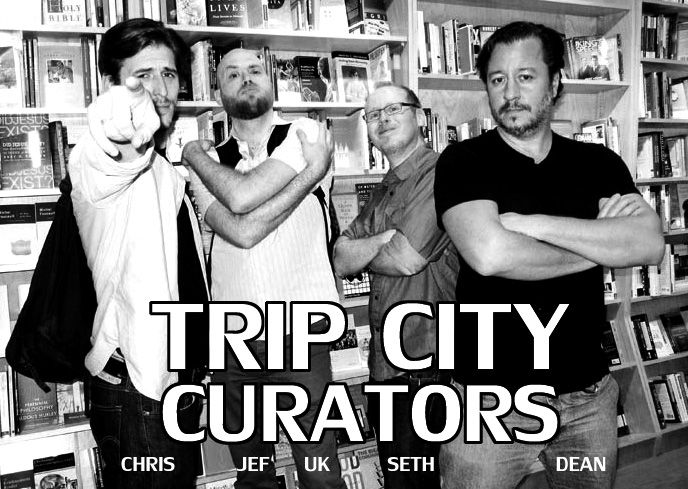 [Chris Miskiewicz, Jeffrey Burandt aka Jef UK, Seth Kushner, & Dean Haspiel]
Origial Blog post:
http://welcometotripcity.com/2012/04/trip-city-at-mocca-fest-2012/