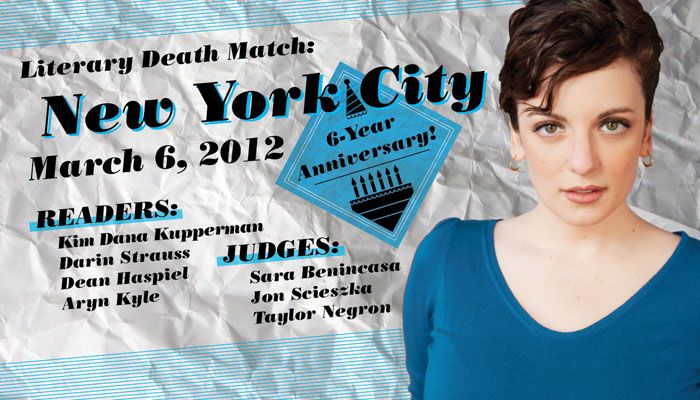 I have been chosen to be one of four "reading pugilists" at the 6-Year Anniversary of Literary Death Match on March 6th in NYC at The Back Room. I will be bucking the LDM norm and read one of my rock 'em sock 'em comix. Please come, judge, and enjoy!
--Dino
New York City
March 6, 2012
Brace yourselves for the Literary Death Match 6-Year Anniversary Spectacular in which we return to The Back Room, the spot of our first-ever event, with some of the most talented people on the face of the NYC — or anyone's — planet.
The night's fierce foursome of reading pugilists will include National Book Award winner Darin Strauss (author of Half a Life), Emmy Award-winning artist Dean Haspiel (creator of the Eisner Award-nominated Billy Dogma), multi-award-winning author Aryn Kyle (author of Boys and Girls Like You and Me), and Katharine Bakeless Nason Prize-winner Kim Dana Kupperman (author of I Just Lately Started Buying Wings).
They'll be judged by a genius trio that includes multi-award-winning children's book author Jon Scieszka (author of the Spaceheadz series), actor/comedian/playwright Taylor Negron and award-winning comedian/writer Sara Benincasa (author of Agorafabulous).
Hosted by LDM creator Todd Zuniga. Produced by Erin Valerio.
Where: The Back Room, 102 Norfolk, Manhattan (through the gate, down the stairs, to the back) (map)
When: Doors at 7, Show at 8:05 (sharp); after-drinks after.
Cost: $7 preorder; $10 at the door.
http://www.literarydeathmatch.com/upcoming-events/march-6-2012.html