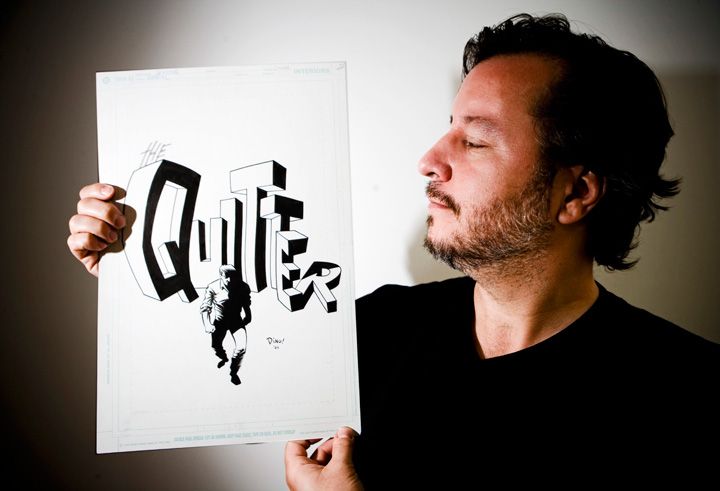 [photograph copyright 2011 Seth Kushner]
I'll be doing a couple of things at the Miami Book Fair from Nov. 18th to Nov. 20th.
Friday, November 18th
Literary Death Match!
"For our triumphant return to South Florida, Literary Death Match is teaming with the geniuses at the Miami Book Fair to put on a brilliant evening of literature and laughs that's perfect brain-kindling before a night out in Magic City.
The night's trio of all-star judges includes Chuck Palahniuk (author of Fight Club and, his latest, Damned), Emmy award-winning artist Dean Haspiel ((Billy Dogma, The Quitter, The Alcoholic, CUBA: My Revolution, and Bored to Death), and novelist Justin Torres (author of We the Animals).
They'll pass judgment on a fierce foursome of diverse combatants, including Barnes & Noble New Writers award-winner Mat Johnson (author of Pym), the laugh-inducing T.M. Shine (author of Nothing Happens Until It Happens to You), comics mastermind Jennifer Hayden (the brain behind Underwire), and poet/non-fictionist Sandra Beasley (author of Don't Kill the Birthday Girl)!"
Hosted by LDM creator Todd Zuniga.
Where: Bardot, 3456 North Miami Avenue, Miami
When: Doors at 7, Show at 8:15 (sharp).
Cost: $10 at the door.
http://www.literarydeathmatch.com/upcoming-events/november-18-2011.html
***
Sunday, November 20th
2:00 p.m. Remembering Harvey Pekar
with Joyce Brabner, Jeff Newelt, Dean Haspiel, and Joseph Remnant
"Comics are just words and pictures. You can do anything with words and pictures," said Harvey Pekar, the pioneer of autobiographical comics who died July 12, 2010. Pekar was largely responsible for "graphic novels" being recognized as "literature." His American Splendor comics won the American Book Award in 1987. In 1994, Our Cancer Year (cowritten with his wife, Joyce Brabner) won the Harvey Award. An American Splendor film (2003) featuring Paul Giamatti as Pekar won awards at Sundance and Cannes. In 2009, he began creating webcomics for Smith Magazine's The Pekar Project. September 2011 saw the release of Yiddishkeit, and in 2012, two final graphic novels will be released: Harvey Pekar's Cleveland and Not the Israel My Parents Promised. His widow, the writer Joyce Brabner, joins two of his artist collaborators, Dean Haspiel (The Quitter) and Joseph Remnant (Pekar Project, Harvey Pekar's Cleveland) on a tribute panel moderated by Jeff Newelt (editor, The Pekar Project and Harvey Pekar's Cleveland.)"
http://graphicnovelreporter.com/content/miami-book-fair-2011-events-and-conventions