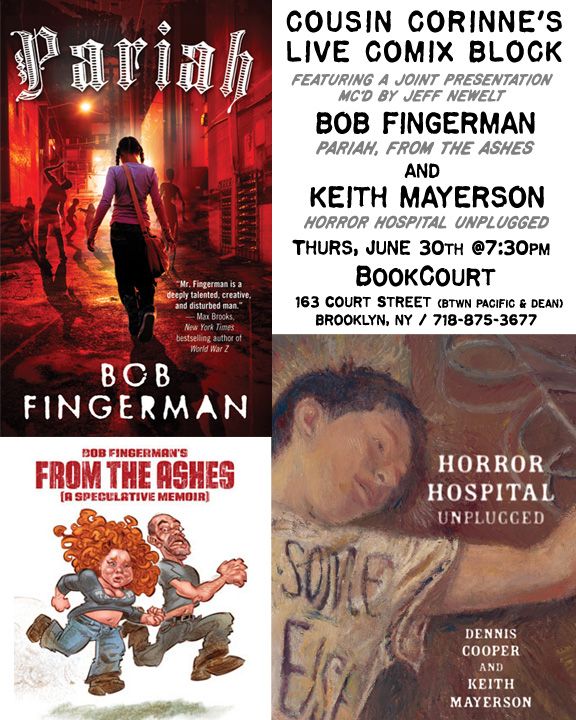 Cousin Corinne's LIVE COMIX BLOCK continues w/a presentation of Bob Fingerman's PARIAH + FROM THE ASHES and Keith Mayerson's HORROR HOSPITAL UNPLUGGED
Comix! Projected & Performed + Refreshments, Vittles & Music. MC'd by JahFurry aka Jeff Newelt. Curated by Dean Haspiel who edits the COMIX BLOCK section of Cousin Corinne's REMINDER literary/graphic journal.
Thursday, June 30 · 7:30pm – 9:00pm
FREE!
Book Court - 163 Court Street (b/w Pacific & Dean), Brooklyn, NY
http://www.bookcourt.org/
Bob Fingerman:
http://bobfingerman.blogspot.com/
Keith Mayerson:
http://www.keithmayerson.com/
http://www.harpercollins.com/books/Horror-Hospital-Unplugged/?isbn=9780062004345
Cousin Corinne's REMINDER
http://www.cousincorinne.com/
JahFurry, Editor of Pekar Project, Comics Editor SMITH, Heeb & Royal Flush Magazines:
http://twitter.com/JahFurry
Praise for Bob Fingerman's PARIAH:
"Finally, a zombie novel with both brain food and brains as food.... In this well-written sociological examination … Fingerman borrows more from the, ahem, biting cultural satire of George A. Romero than the recent trend of undead mix-and-matching." ⎯Entertainment Weekly (A-)
"Fingerman's latest is a spectacular entry in the zombie genre… What truly distinguishes Pariah from other worthwhile entries is its humor in the face of bleak and extremely disturbing events… Readers should shamble to the store for this one." ⎯Publishers Weekly (starred review)
Praise for Bob Fingerman's FROM THE ASHES:
"Fingerman is a brilliant satirist, artist and mind. FROM THE ASHES made me laugh out loud. Awesome."
⎯Trey Parker, South Park; Tony Award-winning co-creator of The Book of Mormon
"As a blitz of astringent satire, an unabashed love letter to his wife, and a love-hate manifesto aimed at the whole human race, From The Ashes is a gem; as an addition to the often-staid canon of post-apocalyptic pop culture, it's a revelation… A" ⎯The Onion
About Keith Mayerson's HORROR HOSPITAL UNPLUGGED
"Stunning. . . . Youthful angst is rarely portrayed as this terrifying." —Library Journal
"Dennis Cooper and Keith Mayerson's boundary-breaking graphic novel Horror Hospital Unplugged is back in a long-awaited reissue. Crystallizing a primal period of creative experimentation for both Cooper, whose Frisk­-era storytelling is at its finest, and Mayerson, whose gritty, unadorned visual style would later explode into color, Horror Hospital Unplugged is a vital piece of underground comics craft. The moody, kaleidoscopic, and sexually charged story of would-be rock star Trevor Machine, and his flirtations with love, fame, homosexual identity, and the disaffection of youth, is a provocative immersion in world of ambition, confusion, and debauchery—and an crucial glimpse at the early creative achievement of two cult icons. "
FaceBook event page:
http://www.facebook.com/event.php?eid=246698885345702