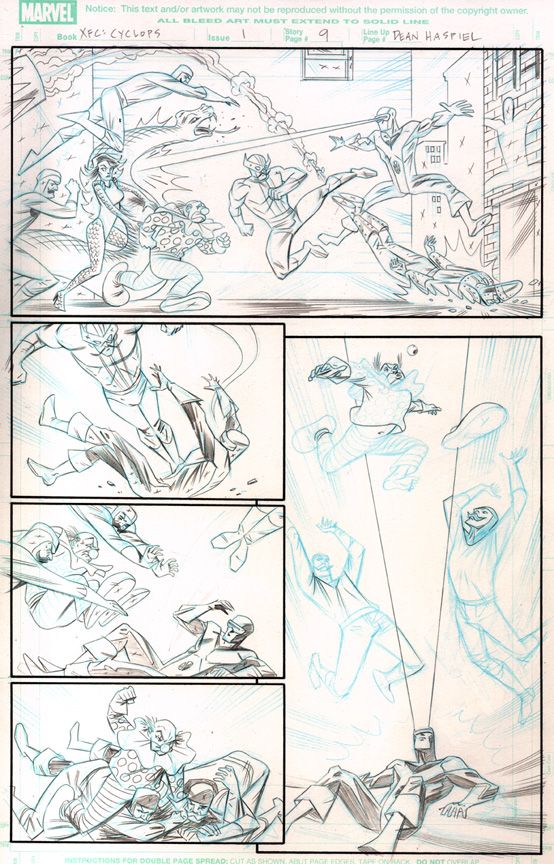 BLEEDING COOL [excerpt]:
"It's got one of those awful covers that gives you no idea whatsoever of the content or tone of the comic, save that Cyclops is in it. It's all grim, and hard edges and delineated muscle groups. But inside you get something very different, Dean Haspiel channeling Mike Allred a little, an an introspective Scott Summers in a cafe questioning his self appointed role in life."
http://www.bleedingcool.com/2011/03/30/wednesday-comics-reviews-cyclops-1-and-wolverine-7/
***
TOO DANGEROUS FOR A GIRL [excerpt]:
"Dean Haspiel has enormous fun drawing the likes of Batroc's marvellous mini, and Cyke on a bike, while Jose Villarrubia gets to forego his usual subtle tones to fill the eye-popping panels with wild primaries."
http://dangermart.blogspot.com/2011/03/cyclops-1-review.html
***
COMIC BOOK NEWS [excerpt]:
"I'm all for "indie" style art and Haspiel does an exceptional job. His crisp, fluid lines and vibrant "pop"art color palette helps bring this retro story to life, reminding us of simpler times. Times where we were oblivious to the subtle passes the girl behind the counter at the local coffee shop made at us. A time where innocence still clung to us by a thread before we ventured into the harshness of adulthood. Haspiel's art is fun yet dynamic enough to set the perfect tone for a story about a boy trying to find his place in the world. Too bad Black couldn't come up with anything to further enhance Haspiel's work."
http://comics.cosmicbooknews.com/content/review-cyclops-1
***
NEWSARAMA [excerpt]:
"Dean Haspiel's pared-down, cartoony art, as colored in bright hues by Jose Villarrubia, is the perfect fit for the story, and the storytelling in particular is remarkably clear and fluid."
http://www.newsarama.com/comics/best-shots-rapid-reviews-110331.html
***
COMIC BUZZ [excerpt]:
"Dean Haspiel's style really fit the whimsical tone of the book. If the story had been stronger it would have been a good read mostly due to his artwork."
http://comicbuzz.com/marvels-cyclops-1-review
***
IGN [excerpt]:
"I found Dean Haspiel's illustrations well done and fitting to the time and character of this book"
http://www.ign.com/blogs/brunnerand/2011/03/30/cyclops-the-bicycle-thief-one-shot-review
***
I SPEAK COMICS [excerpt]:
"Dean Haspiel does a wonderful job keeping the art uncluttered, focusing on details when necessary, but giving Villarubia enough space to ply his wonderful color magic to his pencils."
http://ispeakcomics.wordpress.com/2011/03/30/newcomics-march-30th-2011/
***
COMIC BOOK REVOLUTION [excerpt]:
"The art was excellent."
http://comicbookrevolution.net/index.php/reviews/marvel/828-cyclops-1-review
***
COMIC BOOK RESOURCES [excerpt]:
"Dean Haspiel's art (paired beautifully with Jose Villarrubia's colors) works beautifully here. It's a delight to see on the page, and is a perfect tonal match for the light retro feel of Black's fun story. Haspiel strikes a fantastic balance and breathes great life into the simple story. There's a lot that works surprisingly well in this one-shot, and for Dean Haspiel's art alone it's worth picking up."
http://www.comicbookresources.com/?page=user_review&id=3360
***
MY COMIC NETWORK [excerpt]:
"Now Dean Haspiel knocks this out of the park art wise. For this book is worth a buy alone just for the artwork. He captures this manic energy of the chase in this issue perfectly. Every piece of this issue looks amazing. From the little touches of the Circus of Crime eating together and the great Kraven the movie poster as they leave. To the great action sequences from the beginning crash into the cafe of Batroc to the just in general great energy. You look at this book and you won't be bored. I'll also make a special note for Jose Villarrubia for his colors show off that old school coloring style in spades and it adds to that great liveliness that the book has just from the art alone. This is one of those books that the colors flow just as well as the art."
http://www.mycomicnetwork.com/v2/?p=1016
***
ENEMY OF PEANUTS [excerpt]:
"The Haspiel art was the real sell for this comic. Retro, smart and kinetic, this artwork is perfect for a flashback series while still being beautifully done and modern. Good, good stuff!"
http://www.enemyofpeanuts.com/2011/04/04/x-men-first-class-cyclops-one-shot-jimmy-olsen-one-shot-and-butcher-baker-1-at-the-mercy-of-the-crowd/
***
COMICS BULLETIN [excerpt]:
"Beneath the vivid, bold colors of Jose Villarubia, Dean Haspiel provides cartoony, highly stylized illustration that's open and inviting. The characters have all of the proportion of the hyper-realized computer enhanced paintings that proliferate the industry, albeit focused through a unique lens, but none of the visual boredom and a billion times more personality. Princess Python has never been this well depicted. She comes off as a slinky Burlesque bad girl. The mystery villain is a nut and as much of a fashion nightmare as Batroc. Cyclops has one power, but each time he uses it, the artists give that optic blast resonance."
http://www.comicsbulletin.com/reviews/130201741295998.htm
***
COMIC ZINE [excerpt]:
"Haspiel has one of those styles that we see now and again these days that looks retro, kind of like comics arguably ought to have looked in the '50s or '60s but never did, almost like an idealised Dick Sprang via Darwyn Cooke. He's clearly looked at recent DC animation styles and Jaime Hernandez and others, and he has really learnt to draw, then to abstract some of that from genuine knowledge into something immensely bright and breezy, with plenty of energy in the action and what looks an easy precision in faces and expressions. There are all sorts of absolutely delightful panels here, and some lovely grace notes in the design too, never sacrificing narrative for them, but still using for instance the python in inventive compositional ways – I particularly like the scene in the restaurant for this.
It's the first I've seen by Haspiel, and I will now basically buy anything else I see by him – this is beautiful, joyful art with imagination and huge craft, the kind of art that can make you happy whatever the story; as it happens, it's a perfect fit for the story too, which more or less lives up to the superlative artwork, or at least doesn't let it down."
http://comiczine-fa.com/reviews/cyclops-1/
***
HOUSE TO ASTONISH [excerpt]:
"Haspiel's retro art is lovely."
http://www.housetoastonish.com/?p=788
***
COMIC BOOK CLUB:
http://www.youtube.com/watch?v=FVyPUS8r4mk