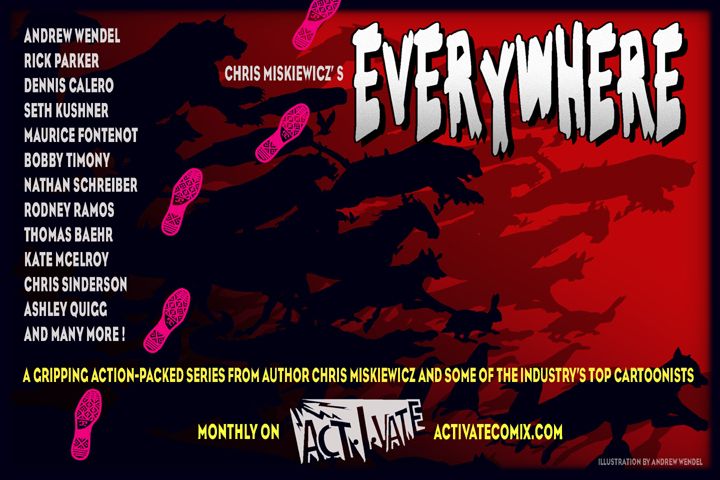 Allstar Webcomix Collective ACT-I-VATE.com celebrates its 5th Anniversary on 2/1/11 by launching EVERYWHERE, a Tongue-in-Cheek Horror Comics Anthology, Written by Chris Miskiewicz, illustrated by a dozen artists including Rodney Ramos, Dennis Calero, Rick Parker and more
"Five years ago, eight independent cartoonists allied and presented personal signature works, online for free, and ACT-I-VATE was born," says Dean Haspiel, creator of Billy Dogma, and co-founder of ACT-I-VATE. "Five years later, ACT-I-VATE expanded its roster, created a PRIMER graphic novel, and helped confirm publishing options between print and web. A bold example of how a curated destination point for new stories and ideas can sustain, ACT-I-VATE continues to break ground as the industry transitions to the Digital Age."
The premise for the newest series to launch on ACT-I-VATE, EVERYWHERE created by Chris Miskiewicz, is simple: You wake up to find that millions of animals have appeared EVERYWHERE around the world at the same moment. What happened and what does it mean when the natural world has gone horribly wrong?
"The EVERYWHERE idea was born out of a drunken brainstorm between artist Andrew Wendel and I," says Chris Miskiewicz. "We were discussing my obsession with the seemingly-sudden rampant natural disasters and how Twilight Zoney it's all been, and we said, 'disasters, one-shot Twilight Zone-like comix… zoiks! Next day I emailed Dean Haspiel two scripts and he goes "This is an ACT-I-VATE comic!"
"ACT-I-VATE is proud to host the webcomix debut of author, Chris Miskiewicz," says Haspiel "and his EC Comics inspired EVERYWHERE anthology, which will appeal to anyone...anywhere."
In the first season of The EVERYWHERE Anthology, Chris is joined by a number of top comix artists as well as some fresh talent. "Working with the various artists on EVERYWHERE has been fantastic," says Miskiewicz. "Each episode features a different artist's interpretation of an animal apocalypse. They're each so different from each other giving the series a great overall look and feel."
The EVERYWHERE Anthology launches Tuesday 2/1/11 on the 5th Anniversary of ACT-I-VATE with "Horses EVERYWHERE" by Chris Miskiewicz and artist Andrew Wendel. Episodes will run the first of every month featuring the talents of Rick Parker (Marvel, MTV's Beavis & Butthead), Dennis Calero (X-Men), Nathan Schreiber (Power Out), Bobby Timony (Night Owls), Maurice Fontenot (Ghost Pimp), Thomas Baehr (The End is Here), Seth Kushner (Culture Pop/Graphic NYC), Rodney Ramos (Transmetropolitan/Green Lantern), Kate McElroy (Fables 100), Chris Sinderson (Next Door Neighbor/Twisted/Savage Dragon Funnies), Ashley Quigg, and more TBA.
Click here to read EVERYWHERE:
http://www.act-i-vate.com/120-1-1.comic
Brooklyn native Chris Miskiewicz is a multi-media performer working in television, film, music and comics. He is a founding member of the Brooklyn based psychedelic rock group Swinger Eight, and the writer/producer of the upcoming live action web series Secret Identity.
ACT-I-VATE.com is a curated comix community of select artists that produce their original, signature works sans editorial oversight, and offer their personal comix for free on a daily basis.
Press Inquiries / Interview Requests: Jeff Newelt / jahfurry@gmail.com