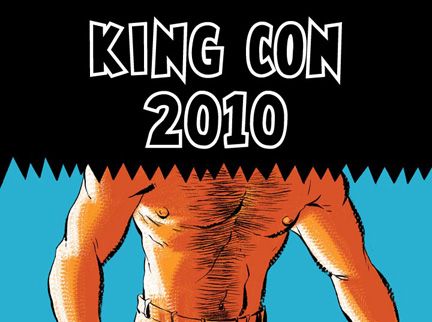 FRIDAY, November 5
8pm to Midnite = KING CON KICKOFF PARTY / Live Comix Reading with Dean Haspiel (including the NYC premiere of, "SEX PLANET," a Billy Dogma motion comic created with Daniel Kramer), Paul Pope, Jeff Newelt aka JahFurry, Jen Ferguson, Seth Kushner, Joan Hilty & Joe Infurnari. DJ CrossHatch (Brian Heater) + Party Mix by DJ MAN-SIZE [Dean Haspiel] and live performances by Americans UK (www.americans-uk.com) & Charles Soules Band.
INVITE:
http://on.fb.me/KingConParty
$3 at the door.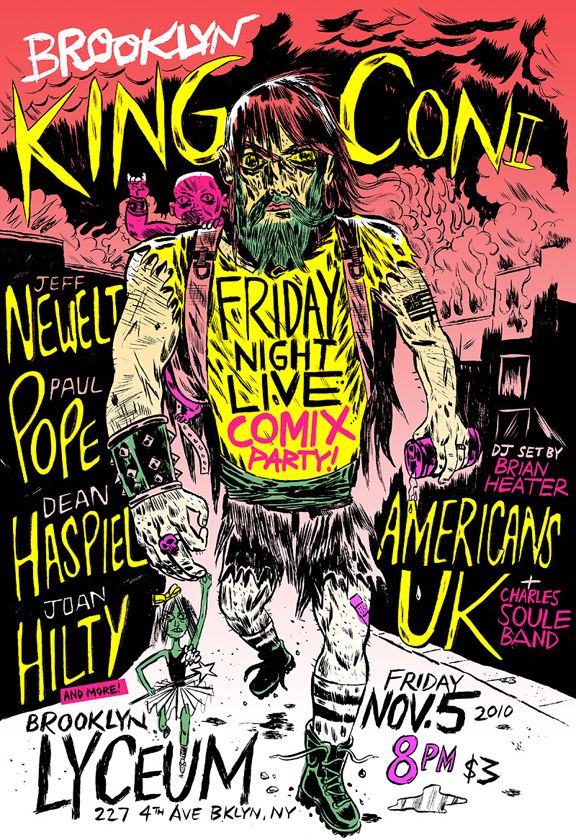 SATURDAY, November 6
12:30pm: Collaboration Counselling: "You put your writing on my art!" "You put your art on my writing!" Comics creators discuss the Reeses-like process of collaboration, the joys and the difficulties of melding words & pictures into a readable whole. Featuring Vito Delsante, Dean Haspiel, Rachel Freire, David Gallaher, Steve Ellis, Simon Fraser, and Reilly Brown.
3:30pm: BORED TO DEATH: Jonathan Ames, creator of the hit HBO series, and artist Dean Haspiel will discuss the show with moderator Jeff Newelt (Pekar Project, Heeb, Royal Flush) The character "Ray" played by Zach Galifianakis is loosely-based on Dean who also draws all the comic art for the show, including the Emmy-winning title-sequence. **Special sneak preview screening of clips from the Comic-Con themed episode that were shot at the Brooklyn Lyceum in May.** Afterwords, Jonathan and Dean will sign copies of the "Bored To Death," SUPER RAY mini-comic.
SUNDAY, November 7
4:30pm: ZUDA: What Happened? a retrospective look at the three-year life of DC Comics' webcomics initiative with Zuda Comics creators Kevin Colden, Bobby Timony, and moderator Alex Zalben.
SKETCHBOOK COMPETITION: You could win the Drawbridge Sketchbook, filled with drawings by Nick Abadzis, Reilly Brown, Becky Cloonan, Robin Ha, Simon Fraser, Tim Hamilton, Dean Haspiel, Nathan Schreiber, and James Smith! The winning sketchbook must: 1. Have at least FIVE different artists work 2. Have one sketch made at King Con 2010! The winner will be selected from a jury and announced on Sunday November 7th! details:
http://natsch.blogspot.com/2010/10/king-con-drawbridge-sketchbook.html
For more KING CON information:
http://www.kingconbrooklyn.com/