October 6th, 2010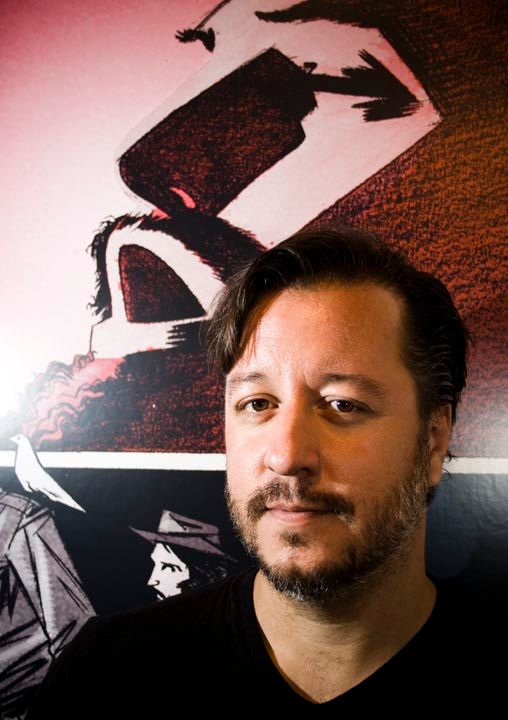 [Photographed by Seth Kushner]
Here is a quick beat-sheet of my scheduled signings and panels at New York Comicon this coming Friday - Sunday. I'll be shucking and jiving with the likes of Inverna Lockpez, Jonathan Ames, and a bunch of my comix cohorts. Be sure to swing by and say "Hi!"
--Dino
FRIDAY, OCT 8
2:30-3:30pm Signing @DC booth CUBA: MY REVOLUTION w/Inverna Lockpez
4:30-5:30 pm PANEL Remembering Harvey Pekar [Room 1A22]
SATURDAY, OCT 9
1-2pm Signing @DC booth CUBA: MY REVOLUTION w/Inverna Lockpez
2:45-3:45pm PANEL Spotlight on Dean Haspiel w/Jonathan Ames, Walter Simonson, Mike Cavallaro, AND Joan Hilty, MODERATED by Chris Irving [Room 1A23]
3:45-4:45pm PANEL - Vertigo: On the Edge [Room 1A06-7]
5-6pm Signing @IDW booth BORED TO DEATH/THE BIRTH OF SUPER RAY comic w/Jonathan Ames
SUNDAY, OCT 10
1:30-2:30pm Signing @DC booth CUBA: MY REVOLUTION
4-5pm Signing at IDW booth [THE ACT-I-VATE PRIMER w/Joe Infurnari, Simon Fraser, Pedro Camargo, Jim Dougan, and Hyeondo Park]
PANEL DESCRIPTIONS:
Remembering Harvey Pekar
After 35 years of innovating in—having virtually invented—the personal comics genre with his AMERICAN SPLENDOR series, Cleveland's HARVEY PEKAR died this past July, in the middle of several projects finished and unfinished. This panel celebrates Pekar's life and work. It includes Harvey's editor on The Pekar Project, JEFF NEWELT; artist on Harvey's The Quitter and other works, DEAN HASPIEL; PETER KUPER, who not only has drawn for Harvey, but as a comics-loving kid in Cleveland, spent much time hanging out and learning from him; and RICK PARKER, an artist on The Pekar Project. The panel is moderated by JEFF NEWELT. Some surprise last minute guests may appear on the panel, as well.
FRIDAY 10/8/10
4:30 pm - 5:30 pm
Room 1A22
Spotlight on Dean Haspiel
With the release of Graphic NYC Presents: Dean Haspiel, The Early Years, a hybrid of journalism and comics reprint book from IDW/Desperado, writer/editor Christopher Irving (nycgraphicnovelists.com) moderates a panel on Dean's career; past and present. Panelists include Dean Haspiel (Cuba: My Revolution, American Splendor, Billy Dogma), Walter Simonson (Thor, The Judas Coin), Mike Cavallaro [The Life and Times of Savior 28, Foiled], Joan Hilty (DC/Vertigo editor), and Jonathan Ames (The Alcoholic, HBO's Bored to Death). Get the dirt on comics' own shirtless wonder, as his collaborators, mentors, and friends dish it out.
SATURDAY 10/9/10
2:45 PM - 3:45 PM
Room 1A23
Vertigo: On the Edge
Find out what compelling tales comics' edgiest imprint has in store for you in the months to come! Led by Senior VP—Executive Editor Karen Berger, with an all-star lineup of talent that includes Jason Aaron (Scalped), Sarah Glidden (How to Understand Israel in 60 Days or Less), Dean Haspiel (Cuba: My Revolution), Jeff Lemire (Sweet Tooth), Inverna Lockpez (Cuba: My Revolution), Sean Murphy (Hellblazer), Scott Snyder (American Vampire), Peter Straub (Green Woman), Brian Wood (DMZ, Northlanders) and others.
SATURDAY 10/9/10
3:45 PM - 4:45PM
Room 1A06
For more NYCC info:
http://www.newyorkcomiccon.com/en/NYCC/Home/