September 23rd, 2010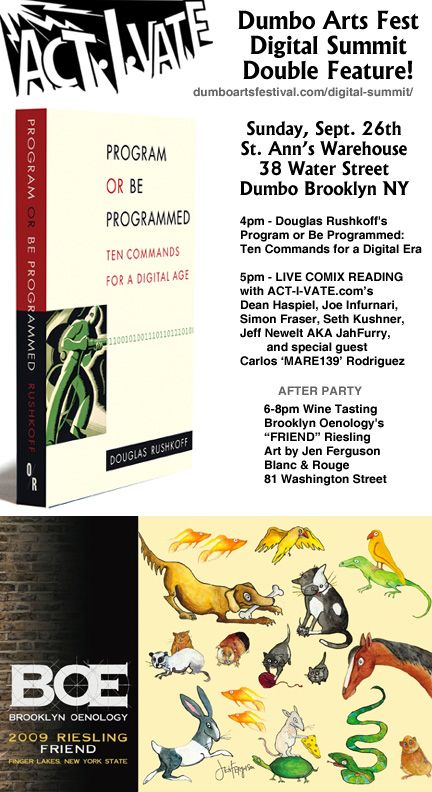 Dumbo Arts Fest Digital Summit: RUSHKOFF Talk and ACT-I-VATE Comix Reading
Sunday, September 26TH
4:00pm - 8:00pm
St. Ann's Warehouse
38 Water Street, Brooklyn, NY
4pm - Media theorist / author Douglas Rushkoff's
Program or Be Programmed: Ten Commands for a Digital Era
5pm - Live Comix Reading with members of ACT-I-VATE.com webcomix collective, Dean Haspiel, Joe Infurnari, Simon Fraser, Jeff Newelt AKA JahFurry, Seth Kushner and special guest Carlos 'MARE139' Rodriguez
6-8pm -- After Party / Wine Tasting: Brooklyn Oenology's "FRIEND" Riesling, label art by Jen Ferguson.
Blanc & Rouge, 81 Washington Street
--
4pm
Media theorist / author DOUGLAS RUSHKOFF presents:
Program or Be Programmed: Ten Commands for a Digital Era
new book available at
http://rushkoff.com/
Do we direct technology, or do we let ourselves be directed by it and those who have mastered it? "Choose the former," says Douglas Rushkoff, "and you gain access to the control panel of civilization. Choose the latter, and it could be the last real choice you get to make."
We continue to accept new technologies into our lives with little or no understanding of how these devices work on us. We do not know how to program our computers, nor do we care. We spend much more time and energy trying to figure out how to use them to program one another, instead. And this is a potentially grave mistake.
Just as the invention of text utterly transformed human society, disconnecting us from much of what we held sacred, our migration to the digital realm will also require a new template for maintaining our humanity. In this talk, Rushkoff shares the biases of digital media, and what that means for how we should use them.
5pm
Big-Screen Live Comix Reading with members of ACT-I-VATE.com webcomix collective, Dean Haspiel, Joe Infurnari, Simon Fraser, Jeff Newelt AKA JahFurry, Seth Kushner and special guest Carlos 'MARE139" Rodriguez.
This crew will be reading comix not only from ACT-I-VATE but from SMITH Magazine's Next-Door Neighbor anthology as well at The Pekar Project.
Dean Haspiel is co-founder of ACT-I-VATE.com; creator of Billy Dogma and Street Code; creator/editor of Next-Door Neighbor; co-creator of The Quitter w/Harvey Pekar; the brand-new CUBA: My Revolution w/ Inverna Lockpez, and The Alcoholic w/ Jonathan Ames. Dean recently won an Emmy for his illustrations in the main title sequence for HBO's Bored to Death, the show based on Jonathan Ames life starring Jason Schwartzman as Ames and Zach Galifianakis loosely based on Dean.
http://deanhaspiel.com/
Jeff Newelt AKA JahFurry is ACT-I-VATE's Minister of Hype, as well as comics editor of SMITH, Heeb, & Royal Flush Magazines. He is editor of The Pekar Project, Harvey Pekar's (American Splendor) webcomics series on SMITH. Jeff will be reading two Pekar stories in his patented Pekar voice.
http://twitter.com/jahfurry
Photographer Seth Kushner, in addition to his renowned portrait series of on GraphicNYC, is the creator of CULTUREPOP: Photocomix Profiles of Real Life Characters. one of those real life characters, Carlos "MARE 139" Rodriguez will read his own profile. Carlos is a legendary graffiti artist and sculptor
CulturePOP -
http://act-i-vate.com/104.comic
http://sethkushner.com/
http://mare139.com/
Joe Infurnari is an Eisner-nominated cartoonist with two books forthcoming from First Second and is the creator of the ongoing ULTRA-LAD strip
http://act-i-vate.com/56.comic
http://joeinfurnari.com/
Simon Fraser is a Scotland-born cartoonist, is currently creating 'Lilly Mackenzie and the Mines of Charybdis'
http://act-i-vate.com/9.comic
and 'Nikolai Dante' the Eagle Award winning character that has graced the pages of Great Britain's 2000AD since 1997, co-Created by Robbie Morrison.
http://simonfraser.net/
AFTER PARTY 6pm - 8pm
Blanc & Rouge 81 Washington Street
Brooklyn Oenology winemaker Alie Shaper will be tasting the newly released "FRIEND" Riesling, which features the art of Jen Ferguson. A portion of the proceeds from this wine will go to support animal welfare. Jen Ferguson's art will also be on display in the store.
http://jenferguson.wordpress.com/2010/09/20/dumbo-art-festival-2010-bklyn-oenology-wine-tasting/
http://www.artinchaos.com