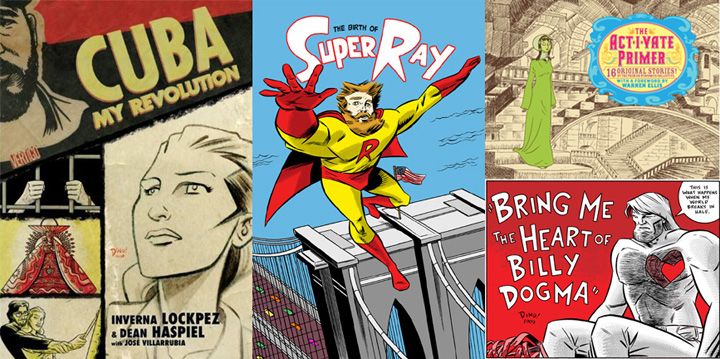 I will be attending SPX [Small Press Expo] this weekend. I haven't been back since 2005 when Harvey Pekar was a special guest of the show. UNDERWIRE Cartoonist, Jennifer Hayden will be at my table. And, I will be presenting the award for 'Best Graphic Novel' at the Ignatz Awards ceremony.
I will have some copies of the Harvey Award nominated, THE ACT-I-VATE PRIMER [IDW], and my newest graphic novel, CUBA: MY REVOLUTION [Vertigo], and FREE COPIES of the SUPER RAY mini-comic [IDW], a promo for season 2 of HBO's "Bored To Death."
If traffic allows, I hope to attend SPXplosion at Atomic Books:
http://atomicbooksblog.blogspot.com/2010/08/spxplosion-2010.html
I'm participating in two panels at SPX.
SATURDAY, SEPTEMBER 11 PROGRAMMING SCHEDULE:
http://www.spxpo.com/programming
Carousel at SPX
2:30 | White Flint Amphitheater
The long running slide show series, Carousel, returns with some of today's finest comics artists, graphic novelists, and pencil pushers reading and presenting their work. Hosted by R. Sikoryak, this special SPX edition of Carousel will feature Kate Beaton, Dean Haspiel, Lizz Hickey, and more!
Remembering Harvey Pekar
4:00 | Brookside Conference Room
When comics writer Harvey Pekar died in July 2010, he left behind an influential legacy of independent autobiographical comics that highlighted the forgotten moments and ignored people of everyday life. In this special panel event, a group of Pekar's former collaborators will discuss their experiences of working with the creator of American Splendor. Heidi MacDonald will moderate this conversation with Vanessa Davis, Dean Haspiel, Jeff Newelt, Rick Parker, Ed Piskor, and Sean Pryor.
For more info on SPX:
http://www.spxpo.com