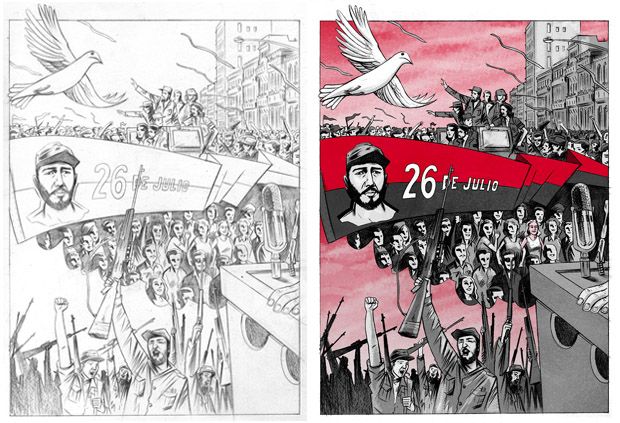 I'll be at Baltimore Comicon, sharing a table with Nathan [POWER OUT] Schreiber, Jim [SAM & LILAH] Dougan, Reilly [PRINCE OF POWER] Brown, and occasional guest, Robin [WOMEN OF MARVEL] Ha. I will have free copies of the SUPER RAY mini-comic Jonathan Ames and I created to promote HBO's "Bored To Death," and I'll be presenting at The Harvey Awards which has nominated THE ACT-I-VATE PRIMER for 'Best Anthology.'
I'll also be doing a panel with Jose Villarrubia about our collaboration on the upcoming Vertigo graphic novel, CUBA: MY REVOLUTION.
Room 307 (Sunday)
2:00-3:00 - Spotlight on Cuba: My Revolution - Artist Dean Haspiel and colorist Jose Villarrubia discuss their new Vertigo graphic novel collaboration. Dean Haspiel is a native New Yorker who created BILLY DOGMA and STREET CODE and has collaborated on great superhero and semi-autobiographical comic books, helped pioneer personal webcomics with the invention of ACT-I-VATE, and draws for HBO's "Bored To Death." Jose Villarrubia is a renowned artist/colorist/photographer who has worked on such books as Alan Moore's "Voice of the Fire" and "Promethea" among many, many others. He is also the chair of the Illustration Department at MICA (Maryland Institute College of Art).
For more information about Baltimore Comicon, please visit:
http://www.baltimorecomiccon.com/