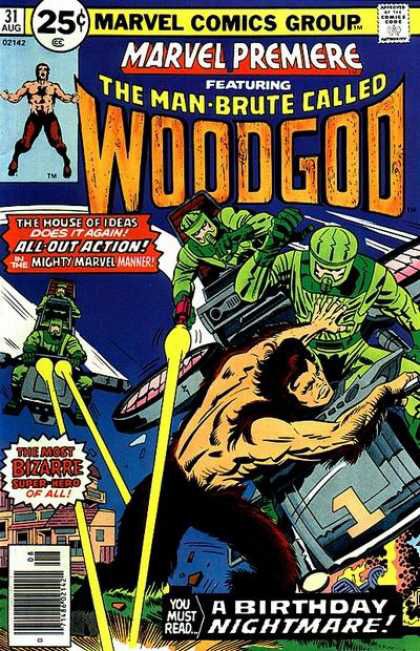 In the mid-1970s, Marvel Comics launched, MARVEL PREMIERE, an umbrella title that served as a mind dump for creators and editors to explore new heroes while keeping freelancers employed and the 'House of ideas' machine chugging along. When issue #31 hit newsstands, writer Bill Mantlo [of Micronauts, Rom, and Hulk fame] and [then rookie] artist, Keith Giffen, debuted WOODGOD – the Man Brute. Dubbed "the most bizarre hero of all," Woodgod was a genetically engineered satyr that cried and stomped his hoofs throughout his entire origin. An emo-inspired pain in the ass, Woodgod was quickly abandoned, albeit dusted off a few times before being quarantined into the bad character idea drawer, never to be seen again.
A little while ago, I was hired to contribute to the upcoming sequel of Marvel Comics' STRANGE TALES revamp [
http://robot6.comicbookresources.com/2010/07/sdcc-10-marvel-announces-strange-tales-ii/
], which hosts non-continuity versions of Marvel characters written and drawn by indie/alternative cartoonists. I performed a creative séance and summoned the spirit of Jack Kirby, whose only association to Woodgod was his cover contribution to the origin issue. Perhaps foolishly, I decided to attempt the impossible and make Woodgod honorable. My personal challenge was to banish Woodgod from the bad character idea drawer, pay homage to my favorite Marvel anthology, MARVEL TWO-IN-ONE [which featured my favorite Marvel character, The Thing], and high-five Jack Kirby. This fall, Marvel will publish the results and fans will decide if I prevailed.
Here are some preliminary sketches I did before drawing my story: