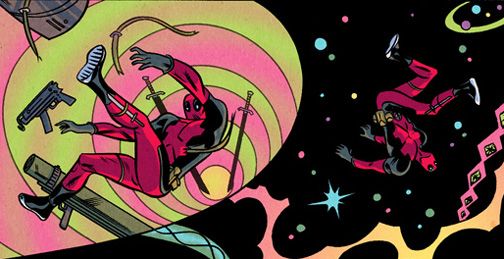 Marvel editor supreme, Axel Alonso, kindly invited me to write and draw a Deadpool story for DEADPOOL 1000 [coming out this Weds., August 4th]. I was happy to receive the call, only, I've never read a Deadpool story. Excited by the challenge, I tapped current PRINCE OF POWER artist and studio mate, Reilly Brown, who cut his eye teeth on Deadpool, to school me and, after much deliberation, devised a short story that, I believe, befits the popular "merc with a mouth," as abetted by the coloring powers of Joe Infurnari.
Here are two articles about DEADPOOL 1000:
http://www.newsarama.com/comics/deadpool-1000-axel-alonso-interview-100706.html
http://www.comicbookresources.com/?page=preview&id=5916&disp=table
Here are some preliminary sketches I did for my Deadpool story, "A Nightmare on Elm Tree"