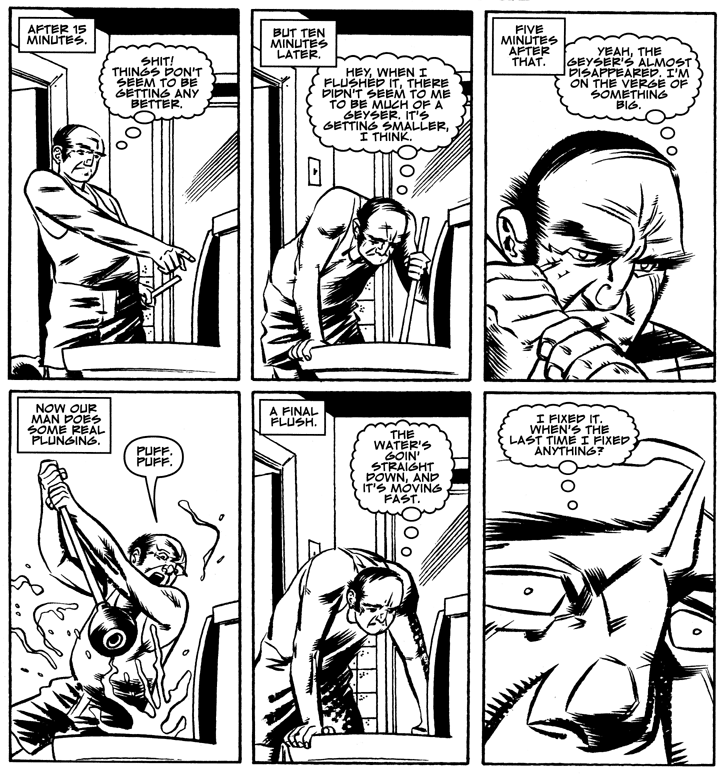 Here is a link to my tribute to Harvey Pekar, written a few hours after I learned of his death:
LA Times: HASPIEL: Harvey Pekar's testament to life -- with no apologies:
http://latimesblogs.latimes.com/herocomplex/2010/07/harvey-pekar-dean-haspiel.html
ALSO...
NY Times Obituary:
"Harvey was like the original blogger, before there was an Internet," said Dean Haspiel, an artist who worked with Mr. Pekar on "American Splendor" and "The Quitter," his memoir. "He was 'Seinfeld' before 'Seinfeld.' Comics, which had been power fantasies for 12-year-old boys, could now be about anything."
http://www.nytimes.com/2010/07/13/arts/design/13pekar.html?hpw
NY Daily News:
"Harvey lived life and every last detail was written and drawn and published," artist and frequent collaborator Dean Haspiel said. "The best way to honor Pekar now is to read his life, just like he would have wanted you to."
http://www.nydailynews.com/entertainment/music/2010/07/12/2010-07-12_harvey_pekar_writer_of_american_splendor_comic_books_dead_at_70.html
The Washington Post:
Dean Haspiel -- spoke to Brabner only hours into her mourning. Afterward, Haspiel told Comic Riffs: "There's a lot more to Harvey Pekar's story. Half of Harvey is Joyce Brabner, so ... maybe there's a way to perpetuate the Harvey Pekar story."
"He was a curmudgeon with a heart of gold.
"When I was a kid, comics were superheroes for kids. ... When I came across American Splendor, it blew my mind. I saw that comics can be about anything. They can be about your mundane life. I don't know how he was able to truly sustain that and use it. I think it heightened the experience that he was only the [constant] as the artists changed. ... American Splendor taught me to have a keen eye on my friends and neighbors and family and to reallly listen to what people were saying because there was narrative gold to mine. ...
"American Splendor helped legitimize the form because it became literary. With its [idiosyncratic] grammar and spelling it was trying to capture real people. ...
"It took him a few years to give me a chance. Slowly things grew and we had a working relationship. ... He was really a sweet guy. He could get upset and paranoid, but I had a good friend. ...
"He taught us there are many versions of the truth. I was sadden and shocked [to hear of his death], but his entire life is in comic book form. ... I heard while at a Jewish funeral that the kindest thing you can do is to pick up the shovel and spread the dirt across the grave to put them to sleep. Well, you'll hear more stories and people will talk about Harvey Pekar. That's a way to help 'spread the dirt.' This normal guy found the extraordinary in the ordinary and [in doing so] showed how extraordinary he truly was."
http://voices.washingtonpost.com/comic-riffs/2010/07/a_pekar_tribute_collaborators.html
Wall Street Journal:
"He was the original blogger," said Dean Haspiel, a comics artist who collaborated with Mr. Pekar on "The Quitter," a hardcover autobiography released in 2005."
http://online.wsj.com/article/SB10001424052748703283004575363401138034466.html?mod=rss_US_News
OBIT-MAG: Framing the Story
http://obit-mag.com/articles/harvey-pekar-framing-the-story
"I made a panicky phone call to one of Pekar's regular artists, Dean Haspiel. What do I do? I asked. I can't possibly draw all this.
Relax, Dean told me. This is normal.
"You have to take his story and make it yours," he said. "You add something of you into the mix, and try to serve the intent of Harvey's script, try to find a point of access so that strangers can relate to it."
"The one thing you can't write, when you write your autobiography, is your death," Haspiel said. "At a Jewish funeral, they say the kindest thing a person can do for you is to lift a shovel and help cover your grave, and put you to bed, put you to sleep.
"Maybe the artists and everyone who worked with him can kind of put him to sleep now with their stories."
AND...
Dean Haspiel's Anatomy Of An American Splendor Cover:
http://www.nycgraphicnovelists.com/2009/11/dean-haspiels-anatomy-of-american_29.html
Tom Spurgeon's The Comics Reporter: Collective Memory: Harvey Pekar, RIP:
http://www.comicsreporter.com/index.php/collective_memory_harvey_pekar_rip/