The "graphic novel" portion of ABC's EARTH 2100 features the writing of Dojo Graphics' Josh Neufeld and Sari Wilson, and the art of XOXO Studios' Joe Infurnari and George O'Connor, and DEEP6 Studios' Tim Hamilton and Leland Purvis:
http://cosmos.bcst.yahoo.com/up/player/popup/?rn=3906861&cl=13707821&ch=4226721&src=news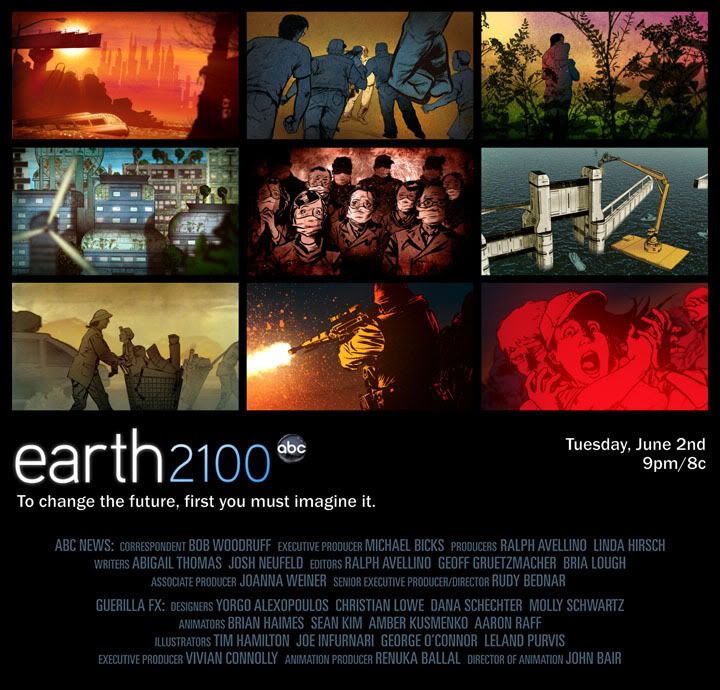 I turned 42 this past Sunday [May 31st]. I was gifted a surprise BBQ on the rooftop of my studio [thx, Eric!] and shared some good burgers and expensive bourbon with some of my close pals. My friend, JF, went above and beyond the call of birthday cheer with quality-of-life gifts. Among many of my gifts, Fiffe scored me early Prince rarities [demos and such from the '80s] while my mother got me Prince's latest effort. I hate to admit it but, maybe, Prince should just...stop. Call it quits. I think I could cull one good album from the last, what, six or seven albums he's produced? For shame.
2009 has been a tough year for me. When SBX broke up with me on Jan. 5th, it shattered my heart and I'm still reeling from the moment everything changed. I was not prepared for a loss of this magnitude. It impacted my life in every way. I have not wanted to discuss it in public and I continue to feel this way. It's too hard.
In order to stave off feeling down, I saw Pixars' UP. If you're not choking back tears ten minutes into the movie, you're not human. Also, Abrams' STAR TREK made me want to never leave the movie theater and I've been revisiting original STAR TREK ever since. What a great, silly show that was for me as a kid and remains just as potent and fun for me today.
After the day the earth stood still, I dove head-first into my comix work and, five months later, I have a lot to show for that will, hopefully, take my career to another plateau. Thus far, I've drawn 52pp of the 120pp, "CUBA - One Story," an original graphic novel written by Inverna Lockpez for Vertigo. I wrote/drew a 12pp Billy Dogma story for the Fall release of the ACT-I-VATE PRIMER, published by IDW [official announcement coming soon]. I plotted out AS BIG AS EARTH, the 3rd part of my Billy Dogma Trilogy [for ACT-I-VATE]. I plotted out STREET CODE - Season Two for Zuda [coming late 2009/early 2010]. I wrote/drew "Bzzt," a 6pp story for NEXT-DOOR NEIGHBOR, a webcomix anthology I created/edited for SMITH Magazine [which recently ended]. I co-created and consulted on LEAPING TALL BUILDINGS, an upcoming book that profiles and spans generations of NY cartoonists with essays written by Chris Irving and photographs by Seth Kushner [check out their GRAPHIC NYC blog for previews and updates:
http://graphicnyc.blogspot.com/]
, and I've been providing illustrations and cartoons for Jonathan Ames' upcoming HBO show, BORED TO DEATH, due to air in Sept. I also did some illos for Ames' upcoming essay collection, THE DOUBLE LIFE IS TWICE AS GOOD.
I'm hoping to get weekends and some week nights back so I can be social in a normal way. I'll be at MoCCA in NYC this weekend:
http://www.moccany.org/artfest09-main.html
and Baltimore Comicon the weekend of Oct. 10/11:
http://www.comicon.com/baltimore/
and at APE, in San Francisco, the following weekend [Oct. 17/18]:
http://www.comic-con.org/ape/ape_guests.shtml
Meanwhile, check out this neat Brooklyn Independent Television video about my studio, DEEP6:
http://briccommunitymedia.wordpress.com/2009/05/28/neighborhood-beat-gowanus-deep-6-studios/