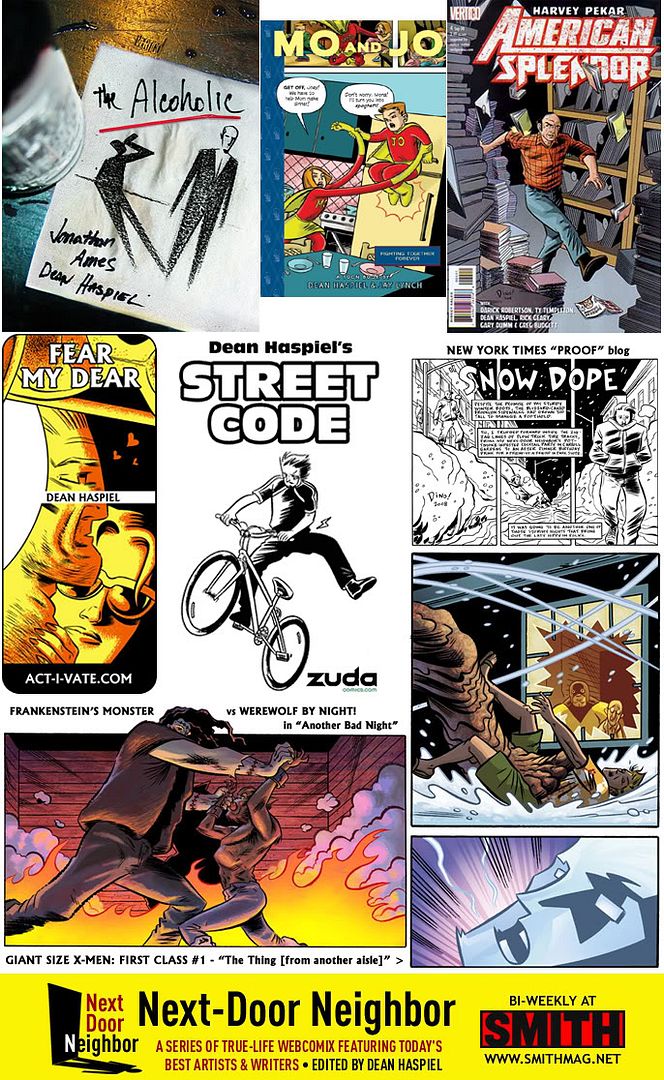 Calling all comix pros--
Don't forget to nominate comix and creators for the Harvey Awards:
http://harveyawards.org/
Please consider some of my 2008 comix contributions:
THE ALCOHOLIC [Vertigo], my original graphic novel collaboration with writer Jonathan Ames.
MO & JO: Fighting Together Forever [Toon Books], my original kids book collaboration with writer Jay Lynch.
AMERICAN SPLENDOR - Season Two [Vertigo], Harvey Pekar's semi-autobiographical series with various artists [including me].
GIANT-SIZE X-MEN: FIRST CLASS #1 [Marvel], I illustrated "The Thing [from another aisle]," written by Jeff Parker, and colored by Mike Cavallaro.
Also, here are links to five digital comix I did in 2008:
BILLY DOGMA in FEAR, MY DEAR [Act-i-vate]:
http://www.act-i-vate.com/22.comic
Dean Haspiel's STREET CODE [Zuda]:
http://www.zudacomics.com/street_code
Frankenstein's Monster vs. Werewolf By Night in "Another Bad Night" [Marvel.com], colored by Joe Infurnari:
http://marvel.com/digitalcomics/titles/HALLOWEEN_SPECIAL_ISSUE.2008.1
SNOW DOPE [NY Times.com]:
http://proof.blogs.nytimes.com/2008/12/20/snow-dope/
I created and edited, NEXT-DOOR NEIGHBOR anthology [SMITH Magazine]:
http://www.smithmag.net/nextdoorneighbor/
Thanks for your consideration.
--Dino