[photographed by Seth Kushner]
http://graphicnyc.blogspot.com/2009/02/bleeding-hipster-ink-chat-with-dean.html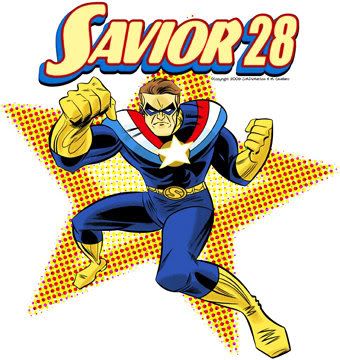 From Mike Cavallaro:
Hi everyone,
I've just uploaded a 5-page preview of my new comic with writer J.M.DeMatteis, "The Life And Times of Savior 28". The preview features a variant cover by comic book legends Sal Buscema and Joe Sinnott. Check it out HERE:
http://www.comicspace.com/mike_cavallaro/comics.php?action=read&file_id=278409
He is the first, and greatest, super hero: an American legend. But when tragedy forces Savior 28 to question the very beliefs that have guided him for sixty years, his life begins to unravel and his nation turns against him.
Join writer J.M. DeMatteis and artist Mike Cavallaro on S-28's dizzying journey through six decades of politics, pop culture and spiritual search­in a mini-series that turns the super hero genre inside out.
The Life And Times of Savior 28
a six-issue limited series by J.M. DeMatteis & Mike Cavallaro
beginning March 2009 from IDW Publishing
FC 32pg $3.99
Diamond Previews Catalog Item Code: JAN094271
VISIT
http://www.savior28.com/
I received a very nice letter today from Brooklyn Borough President, Marty Markowitz, regarding my NYT profile and I wanted to share it with you.