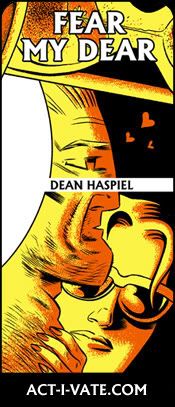 NEW EPISODE HERE:
http://www.act-i-vate.com/22-3-37.comic
Comments are encouraged.
ENJOY!
http://www.comicbookresources.com/?page=article&id=18086
"Jonathan Ames's fiction -- or creative non-fiction, depending on where you draw the line -- primarily deals with the misadventures of his drunken, misanthropic alter ego. Ames's work is funny and tragic, more of the former than the latter, give or take your capacity to find humor in tragedy. He's not what you might expect from a Vertigo writer, since he's avoided genre trappings for most of his career (although he did write a pretty amazing detective story for an issue of "McSweeney's" earlier this year). But this is a different Vertigo than it was ten years ago, and "The Alcoholic" is definitely something that I'm excited about reading. I'm not sure that Ames's strong narrative voice will translate to comics, but Dean Haspiel is tackling the art, and he might be able to capture Ames's skewed perspective with style."