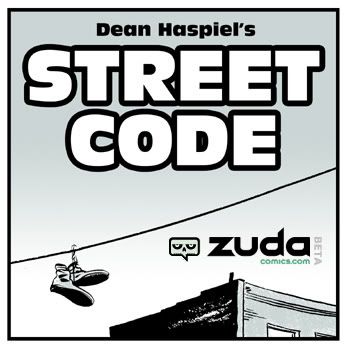 Zuda announces my new webcomic, STREET CODE, which I will start producing early summer:
http://www.zudacomics.com/node/503
"Jack, a native New York bruiser, is fed up with living in the dregs of a drug-addled Alphabet City where his neighbors are insane shut-ins and his bicycle is always getting stolen. So, Jack escapes from Manhattan to Brooklyn to make a fresh start in Carroll Gardens only to face a new strain of street logic where most everything he stumbles upon is not as it seems. Jack steeps in the hazing of eons old rituals as a polarized community begrudgingly changes hands between tribes. With STREET CODE, Dean Haspiel returns to his semi-autobiographical roots and explores the emotional truths between prime and primate."
For a link to my teaser page and some chatter:
http://www.zudacomics.com/street_code