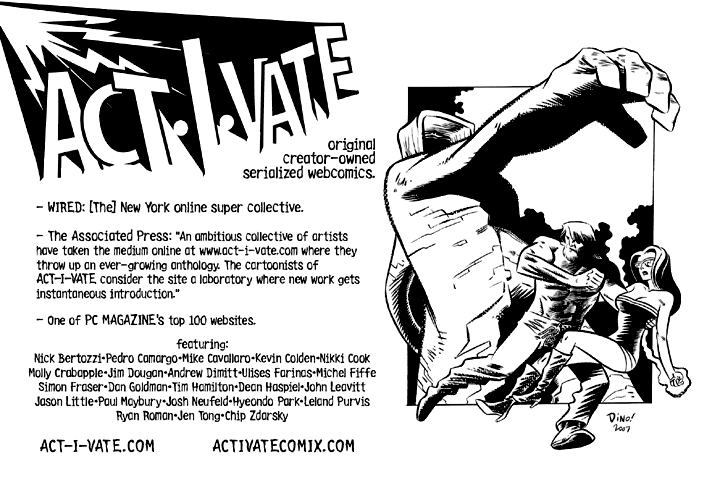 I will be at New York Comicon all three days [April 18 - 20] and I will have a table in Artists Alley [table E-24], which will also host some of your favorite cartoonists from ACT-I-VATE. I will also be doing some panels and signing's [see below] and I'll be making a surprise announcement on Saturday from 4 - 5pm at a certain panel. Hope to see some of you there.
--Dino
FRIDAY
2:00 PM ­ 3:00 PM Professional Room 1E08
A WEBCOMICS ROUND TABLE
Join Dean Haspiel, Molly Crabapple, Ryan Roman, Leland Purvis, Ulises Farinas, Pedro Camargo, Kevin Colden, Paul Maybury, Simon Fraser, Nikki Cook, Jeff Newelt, Michael Cavallaro, Michel Fiffe, Tim Hamilton, Jennifer Tong, all members of the acclaimed webcomics collective ACT-IVATE in a round-table discussion, moderated by Dan Goldman, on creating free online comics as a way to grow each others' audiences and what they've learned in the group's two year existence.
5:00 PM - 6:00PM
BRAWL / PARADE signing with Michel Fiffe and Mike Cavallaro at the Image Comics booth #1407.
6:00 PM - 7:00 PM Room 1E16
COMIC ARTISTS TALK ABOUT DRAWING
How do they do it? Why do they love it? Join this stellar panel of artists as they provide the inside scoop! Moderated by Peter Sanderson. Confirmed guests include: me, Jim Lee, Colleen Doran, Leonard Starr, Walter Simonson, and maybe John Romita, Jr.
SATURDAY
3:00 PM - 4:00 PM Room 1E08
VERTIGO VOICES: THROUGH THE LOOKING GLASS
Vertigo has always stood out as the premiere imprint for edgy and provocative comics. But this year, Vertigo is spotlighting Original Graphic Novels and new series that will leave readers stunned. Come listen in as Sr. VP / Executive Editor Karen Berger, Group Editor Shelly Bond, and others speak with Jonathan Ames (The Alcoholic), Dean Haspiel (American Splendor), Mat Johnson (Incognegro), Warren Pleece (Incognegro), Brian Wood (DMZ, Northlanders, Demo), Becky Cloonan (American Virgin, Demo), Josh Dysart (Swamp Thing), G. Willow Wilson (Cairo,Air), M.K. Perker (Cairo, Air), and more!
5:00 PM - 6:00 PM
I will be signing at the DC/Vertigo booth.
SUNDAY
3:00 PM - 4:00 PM
I will be signing at the DC/Vertigo booth
For more NYCC info:
http://www.nycomiccon.com