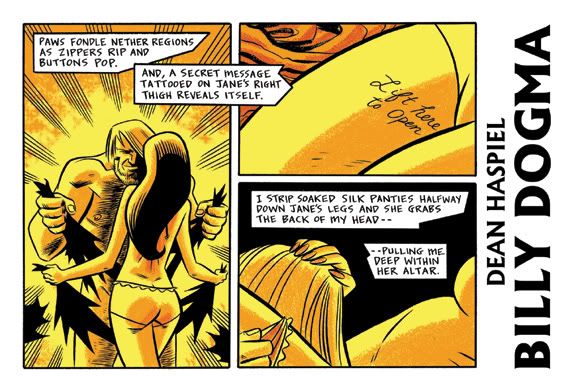 Ever since I finished drawing Jonathan Ames' THE ALCOHOLIC [the galley's just came in and the graphic novel looks great] it's been crazy busy these days at
studiodeep6
, juggling many projects:
1] "Sex Planet," a brand new BILLY DOGMA tale for Image Comics' upcoming anthology, POPGUN Vol. 2
2] NEXT-DOOR NEIGHBOR, a brand new webcomix anthology series I created and I'm editing for Smith Magazine, launching next week
3] two new Harvey Pekar stories and a cover for AMERICAN SPLENDOR - Season Two
4] helping finalize designs for the official
act_i_vate
website
5] negotiating contracts for my new, original webcomix series [to be announced at NYCC?]
6] preparing my weekly return to FEAR, MY DEAR at
act_i_vate
7] drawing a CTHULHU TALES cover for BOOM!
8] preparing for signing's, panels, and meetings, at New York Comicon and other developing projects
This week marks the return of Harvey Pekar's AMERICAN SPLENDOR mini-series [Vertigo] which I have a 1pp story in the first issue of [and I will have stories in each subsequent issue]. But, more importantly, my friend, Kat Roberts [aka
sateenduralux
], made her comic book print debut in NEGATIVE BURN #18. Not only does Kat have a 10pp story inside the anthology [titled "The Somnabulist"], but her art graces the cover [Kat painted a short story I wrote]. And, to make it a perfect trifecta, Michel Fiffe [aka
zegas
], drew the back cover. The inside of the book also hosts comix by posse members Josh Neufeld [aka
4_eyez
] and Jim Dougan [aka
chatterbox_dc
] who just announced his new
act_i_vate
series, SAM & LILAH, with artist extraordinaire, Hyeondo Park, launching May 1st.