I was alerted to the Brooklynites project via my pal/writer Jonathan Ames, who had his profile featured among many other Brooklyn artists and locals. I was fortunate to have been profiled before the project is to be published into a book. Brooklynites is the brainchild of photo editor Anthony LaSala, and photographer, Seth Kushner. This is the picture Seth took of me in Red Hook a few weeks ago and below that is the letter I provided regarding my feelings for Brooklyn.
http://www.sethkushner.com/brooklynites/index.html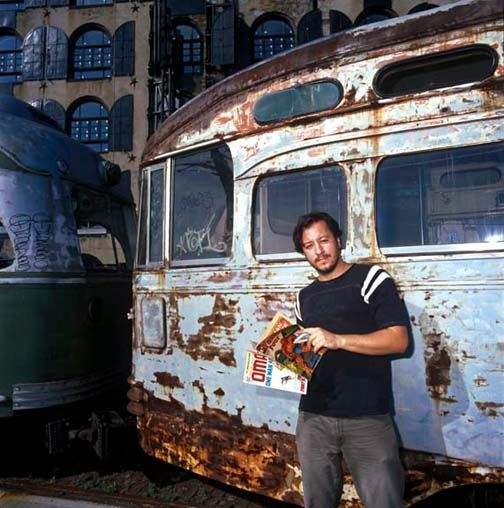 [photograph c.2006 Seth Kushner]
When I first moved from my native Manhattan to Carroll Gardens, a decade ago, it felt like I was moving to the country. I was shocked to discover how loud a quiet night could be. For the first time ever there was clarity to my thoughts and ideas sans sirens and the hustle and bustle of 24-hour activity. I could ride my bike in relative safety from the Brooklyn Bridge to Coney Island and it came with its own backyard in Prospect Park. I soon realized Brooklyn was a place where people could find good romance, respite, and resolution. However, like a Sergio Leone "spaghetti western," Brooklyn is criminally aware of territory and personal honor. There is nostalgia running rampant through Brooklyn's varied neighborhoods steeped in unapologetic history, from original gangsters to original cartoonists, where immigrants formed their necessary niche. Brooklyn was the stomping grounds of my favorite comix authors, Jack Kirby and Will Eisner. Brooklyn is bigger than some third world countries and sometimes acts like one, too, yet furnishes an oasis of crossroads. Where else I can grab a variety of culinary delicacies in the spirit of Soho on the recently converted Smith street yet stumble a few blocks away towards my home and still find the racist skeletons of NBC Sticks ["Nigger Be Cool"] made from the business end of a broom handle hidden up the sides of trees? Or, how about Red Hook, the sexy blue collar ghetto of Brooklyn, hosting the ghosts of Elia Kazan's ON THE WATERFRONT, too far away from easy public transportation yet pulls me, hipsters, and anybody worth their salt, towards its streets and sea like a soul-mollifying magnet where the Statue of Liberty shines a beacon of light at the last watering holes on earth.
Dean Haspiel, cartoonist, age 39
Brooklyn, NY
June 27, 2006