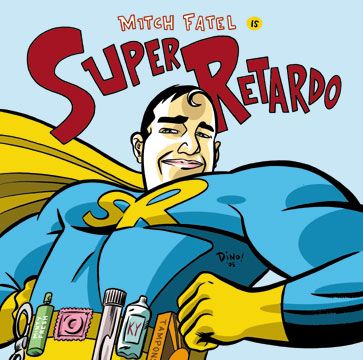 A few months ago, comedian Mitch Fatel wrote me and asked if I would illustrate and design his new CD covers and a comic book insert for SUPER RETARDO. He sent me his first album, MINISKIRTS AND MUFFINS, and I laughed. So, I signed on to the project and we had fun knocking his silly superhero idea into shape. We shared the same childhood love for Marvel Comics and he wanted to take the piss out of the genre while paying homage. Mitch just wrote about the project:
http://www.mitchfatel.com/journal/journal.html
And, the official SUPER RETARDO website launches Nov. 15th:
http://www.superretardo.com/
for advance orders, et al.