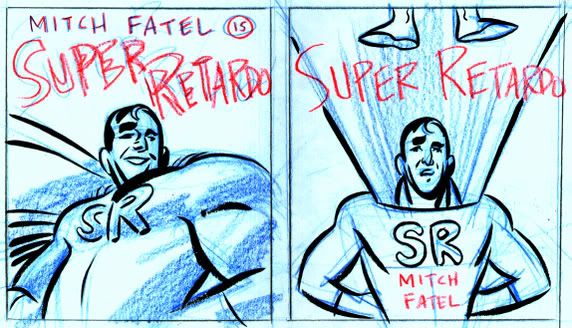 After I finished a 2pp, rock-n-roll comic written by Harvey Pekar for SPIN Magazine's upcoming November issue, and took a much deserved Labor Day break in the Catskill mountains w/SBX, family and friends [diary pix coming soon!], I immediately started illustrating comedian Mitch Fatel's SUPER RETARDO cd covers and 6pp comix insert. In the midst of sketching, I got a call to draw the cover for a weekly alternative, THE BOSTON PHOENIX, featuring...Harvey Pekar! This mad rush of gigs may interfere with my ability to attend the Baltimore Comicon. I won't know where I stand until next Monday when I get back this weekend from my good buddy Blazm's wedding in Southold.
I managed a brief prison break from the art table last night for a few hours to see
digitante
read at Junno's in lower Manhattan. He and three other writers: Brian Cogan, Ryan Robert Mullen, and Jennifer Lovegrove, made their NYC stop from their cross-country "Perpetual Motion Roadshow," and read from their respective works. Cogan shared two hilarious missives; one essay about making a punk rock boy band, and a staged Japanese interpretation of Charles Schulz' PEANUTS, which would make the funniest faux-Manga if drawn by R. Sikoryak. Mullen dropped science and tore it up with his barbaric Wisconsin wise cracks, and Lovegrove read from her collection of 17th century Pirate poetry.
digitante
killed with an excerpt from his first novel HALF EMPTY and his short story perennial "The Gayest Gym in the World." I hung out and sat with
dangoldman
,
sneakymonkey
, and
biffsatan
, while knocking back a Maker's Mark and sketching
digitante
on yellow note pad paper while he raved. At one point, a hub cap was passed around for donations. Not for the author's pockets but for gasoline to take the reading tour to Canada.