Michael Chabon Presents The Amazing Adventures Of The Escapist #8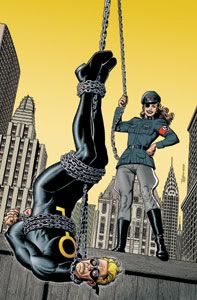 BRIAN K. VAUGHAN (W), HARVEY PEKAR (W), JEFF PARKER (W/A), ANDI WATSON (W/A), PHILIP BOND (A), DEAN HASPIEL (A), EDUARDO BARRETO (A), and BRIAN BOLLAND (Cover)
On sale November 9, FC, 80pg, 7" x 10", $8.95
From off the streets of Cleveland comes fan-favorite writer Brian K. Vaughan (Y: The Last Man, Ex Machina, Runaways) and critically acclaimed artists Philip Bond (Vinarama, Vertigo Pop) and Eduardo Barreto (Mr. Machine Gun) to kick off the anthology's first multi-part story! Meet Maxwell Roth and Case Weaver, latter-day versions of Joe Kavalier and Sam Clay, as they set out to make the Master of Elusion a sensation once again in "The Escapists"!
Next, on his way home from an extended stay at a Cleveland hospital, our man Harvey Pekar encounters…The Escapist?! The team-up you thought you'd never see, illustrated by Dean Haspiel (The Quitter). Also in this issue, award-winning creator Andi Watson (Skeleton Key, Geisha) and Eisner Award nominated Jeff Parker (The Interman)!
With cover art by Brian Bolland, you won't want to miss this eclectic eighth installment of the multiple award-winning quarterly anthology!
• Harvey Award and Eisner Award-winner, Best Anthology!
• Harvey Award-winner, Best New Series!
http://comicbookbin.com/darkhorsepreview015.html