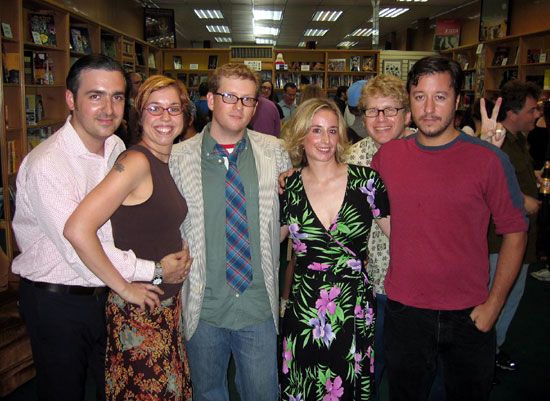 [Matt Madden, Jessica Abel, Alex Cox, Mary Gibbons, Josh Neufeld, Dean Haspiel]
Last Friday, Rocketship launched CARTOON BROOKLYN for their Aug/Sept. exhibit showcasing "original works by comic artists in the borough of kings." Right on! The night proved to be a massive success on so many levels. Much like your coolio literary bookstore, the experienced and well-informed Rocketship owners, Alex Cox and Mary Gibbons, created a much needed immaculate pop culture comix hub with savvy selections divided by genre for the hungry hipster who reads Palahniuk and Ames, watches kung fu and horror films, listens to THE FLAMING LIPS and DIZZY RASCAL, and travels to the likes of Rocketship to pick up their STREET ANGEL and THE ULTIMATES, sans irony.
With a history of failed comix shoppes falling into the abyss with only a dedicated bunch fighting the good fight and holding down the fort, it's refreshing to witness the spawn of a new era where pros and fans of the form can enter a clean store in their Brooklyn-based neighborhood with pride and enjoy the best the industry has to offer. The popularity of the trend setting graphic novel has the inventory to back up its promise and support such idealistic venues. Still, Rocketship is no kinda snob as it offers weekly franchise super-dupers while featuring the alternative press alongside select Manga and children's fare. Add original art for sale and for show and a backyard lined with tiki torches, stenciled rocket ships, and comfortable seats, and you have the lounge you always wanted, where plot twists, art styles, and industry gossip, can be waxed until dusk.
The launch provided a flow of free beer and wine and I was witness to at least one romantic hook-up. Yes, comix = sex, people. Both the store and lounge rotated 300 people or so for a good 4-hours and the air was thick with pros, friends, family, and curious locals. Lined with great restaurants, bars, and shoppes, Smith Street has a new destination point in town and its name is Rocketship!
***
Publisher's Weekly article:
http://publishersweekly.com/index.asp?layout=contentinfodetail&articleID=CA406420&channel=aboutUs&display=wildcard
The Beat article:
http://www.comicon.com/thebeat/archives/2005/08/rocketship_to_t.html#more