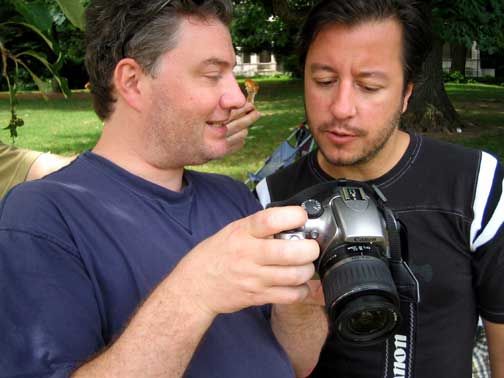 [
thamesrhodes
shows me pictures]
This past Saturday offered a second rendezvous of available Music & Art high school students [Class of '85] in Prospect Park for an afternoon picnic. It seemed everyone was armed with a significant other swarmed by offspring and at age 38, what did I expect? A frisbee toss between
4_eyez
and
thamesrhodes
broke my feelings of clan inadequacy and I performed a rigorous round of "the very bad uncle" to
al_monster
's son, Walt, which balanced my naughty nature. Visits from
larrondo
and his gal
pivovision
, and
eyehawk
& family, fleshed out the crowded lawn while old cronies Phil DeJean and Jonathan Hoffman filled in the missing gaps. It was a pleasure to break bread with Meg, Hua, and Lena, et al, but I never got the chance to circle the room as the reunion proved socially abundant. Promises to do this again were made.
A link to some M&A picnic reunion pix and movies:
http://hartandlena.com/gallery/m&areunion-85/
Then, I hopped my metal steed to El Huipel in Red Hook where
sneakymonkey
was hosting his 29th birthday dinner. Conversation is always lively when
purvision
is present at the conference table and we discussed the "artists" supposed responsibility to teach their experience. I find the responsibility daunting yet commend those who can communicate and share their knowledge in a school forum. I qualified my inability to teach by admitting the onus to mentor the chosen few over the registered many and the critical importance of sequential narrative to the dedicated, no matter my resistance. The party was complimented by
sneakymonkey
's girlfriend Leslie, and his STYX TAXI artist, Rami, while the ever charming
ebess
and the one love vibrations of
dangoldman
recorded the evening festivities:
http://www.flickr.com/photos/elizabethgenco/sets/533701/
http://www.flickr.com/photos/burningdove/sets/538034/
I herded the group to Sunny's, the last bar at the end of the world, for a birthday drink and we discussed what three songs you'd want to be buried with. I could only choose two: "Planet Rock" by Afrika Bambaattaa and the Soul Sonic Force, and "When Doves Cry" by Prince and the Revolution, suggesting my third song might be a Reggae tune [perhaps "Every Man Ought To Know" by Max Romeo?] or "God Only Knows" by The Beach Boys? Post sunset, we walked over to Hope & Anchor for desert and Karaoke. I got a chocolate milkshake and kept my mouth shut as the group got falsetto on the mic. My pal Eric showed up and pulled me from the camp for Tiki Lounge drinks at Lillie's Bar, and later on the birthday boy, et al, joined us for final toasts.
Sunday was my first beach visit of the season. I caught a ride with
eyehawk
and his family [Marie and Ian], to Long Beach where we met up with Michele, Vanessa, and Cecily. The beach was windy yet divine even though the choppy water was littered with seaweed. The local pharmacy recommended a pink bottle of Coppertone's WATER BABIES 45 for my sensitive skin. I flexed muscles applying the anti-macho sunscreen and spent half my time playing Ian's wing man as he invaded the surrounding camps to chat up the topless ladies. I dare say the kid had game. He kept saying "D" [my name] and "Sar" [SBX, who's in England] whenever he grabbed my hand and pulled me to play. This prompted a cell phone call to SBX from the sands of Far Rockaway to the hills of Winchester, England, and I told her how much I missed her. Then, I coerced the little Romeo to get wet in the ocean and his parents were impressed by their son's bold triumph.
(
Me and Ian
Collapse
)