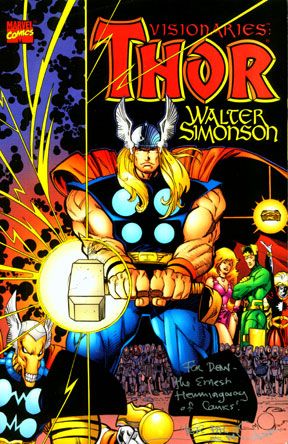 As promised, a new episode of BLIND DATE hit the airwaves 1AM sharp on UPN and our very own ragamuffin
kthor
kept it street and geek and never fronted.
kthor
charmed the socks off his date while he scratched vinyl like a pro and waxed self-defense on blue mats before dropping dime about his stint in gay porn. Nothing could keep this bewildered chick from saying thee nay to Thor, who represented the sexy virtues of the comic book artist. Chalk one up for the kid.
This morning, I woke up to my door bell. It was the mail man. He had a package for me. It was from one of my mentors: Walter Simonson.
When I was 17 going on 18 in my senior year at La Guardia High School, I assisted comix gods Bill Sienkiewicz, Howard Chaykin, and Walter Simonson with
larrondo
. I was privy to work on such legendary comics as ELEKTRA: ASSASSIN, AMERICAN FLAGG!, and THOR, among others. Simonson taught me the great importance of capturing the spontaneity of one's initial thoughts and scribbles and craft that innate energy into the final draft. To this day, my primal bar napkin drawings and blue pencil layouts are the best I have to offer. My best has never been published.
When I was in the midst of drawing THE THING: NIGHT FALLS ON YANCY STREET for Marvel Comics, I started pitching projects for more work. One idea I had was something called "Thor Smash!" The idea was to plot and draw a brutal clash between Thor and Hulk on the Rainbow Bridge between Asgard and Midgard [earth], but with a funny twist as perpetrated by Loki. The editor of THOR loved it and showed it to comix writer extraordinaire, Mark Waid, who deemed it one of the best story ideas he'd ever read. He wanted to write it. I was flattered. The project was verbally greenlit when, soon after, Waid had a brief yet public editorial scuffle with his stint on THE FANTASTIC FOUR, and "Thor Smash" went south. A damn shame because the idea is damn good and we should make this damn comic happen!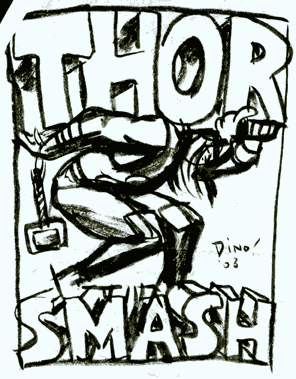 Here is one of those quick sketches that keeps me in check. I drew it on a piece of dinner table paper with a brush pen at a Thai restaurant during the San Diego Comicon a couple of years ago to show Waid. I based this image on a famous HULK cover drawn by Jim Steranko and later revamped by Kaare Andrews for the Bruce Jones run.
When I ripped open Simonson's package, his collected run of THOR fell into my lap. In silver ink, Walter inscribed a personal message to me. Silenced, I couldn't have been more humbled. Simonson gave me his nod with the wave of his mighty Mjolnir.
(
This is what it said...
Collapse
)