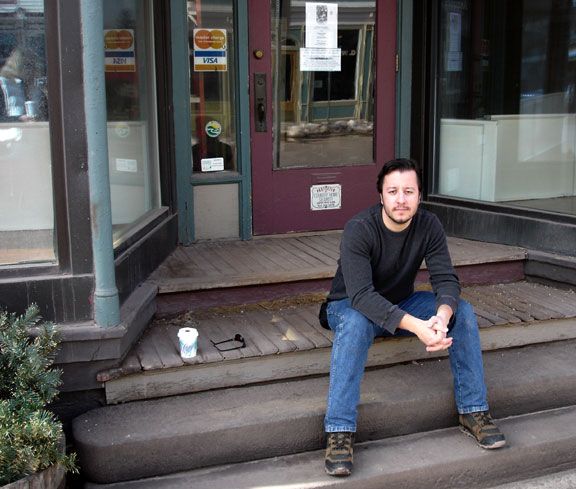 [sitting on the stoop of the late KICKING STONES]
Sinus infection post stomach virus coupled with freelance anxiety = a triple whack-attack. A bad week behind me, what's so "good" about Good Friday? I'll tell you: Thursday night bus to Catskills with SBX and a Kingston rendezvous with Mom [who just turned 62] in her blood red pick-up truck. Cold dry air and hugs. Inhale. Just what the doctor ordered. Exhale. Famished. Morty the Italian "made" chef/owner of RAIL ROAD PIZZA serves up the last slice of his delectable "Pizza Verde." Sated. Arrive to Canada Hollow; 23 acres of mom's lush land and quarry. There's Ryder, the dog with the saddest eyes ever. Vance the cat, a veteran hunter. Taz the kitty, a hunter in training. Mom's new laptop and DSL? Whoa. Email and Live Journal in the mountains? Double whoa. Ladies saw logs while Lethem's MEN AND CARTOONS, and Palmiotti & Noto's THE NEW WEST, keep me company before I drift. Late to sleep/early to rise. Friday morning coffee and tea and SBX's cranberry scones. Everything is new today. Telephone videos with my new Samsung cell. Inverna's new "road" paintings in her studio. A brand new blender at HOME GOODS for mom's belated birthday. Lunch where mom tells the story of meeting my godmother Shelley Winters and how Shelley convinced her to move to NYC and introduced my father to her. Two years later ~ they made me! *sigh* An actual nap. Home cooked feasts include scalloped potatoes, ham, string beans with almonds, and salads. Strong Margarita's. SBX home baked pies: lemon meringue & apple! Mom's college basketball -- "Go, Michigan, Go!" Boo satellite TV and your intermittent reception. ROMAN HOLIDAY with Peck & Hepburn. High five, the DVD format! Ladies saw logs. Clear midnight sky. Stars. Full moon. Emails and LJ and Jenn's fantastic new A TOWN strip! Late to sleep/early to rise. Coffee and tea and a Sunday morning walk around Wawaka lake. Is that road kill in a tree? Holy hawk massacre! NICK DRAKE's "Pink Moon" scores the Spring mountain drive. Sneak-peek at Eddie Roberts auction house in ugly Fleischman's. The Llama farm with poor Nemo, the Jerry Lewis of Alpaca's. Those awful TEETH. Dinner time! THE INCREDIBLES with JACK-JACK extras! Dye Easter eggs, dye! Are they supposed to look Martian and prehistoric? Early to sleep/late to rise. Taz meows at 5am for a hug. SLOW DOWN breakfast and Sunday funnies. Easter Egg hunt with Ali, Inverna, and Mom. Three senior citizens trading fisticuffs and squealing over mini chocolate eggs?! *Haw* Can hardly contain gut busting laughter. Jellybeans. Inverna wants to know "Who is today's Susan Sontag?" I don't know. Inverna wants more than what her weekly NEW YORKER has to give. What else is there? We discuss Blogs and fun online venues like Gothamist, and Viceland but they don't serve no kinda Sontag. SBX weighs in with McSweeney's Quarterly Concern, THE BELIEVER, and The Guardian. We're reminded of GRANTA and PARIS REVIEW. Is anything going on in THE VILLAGE VOICE and NY PRESS? I didn't think so. Sheesh, I read comix, pulp noir, local authors, and pals scribes. I have some catching up to do. Bookmark website's for Inverna, promise her some print samples, and sate her intellectual thirst until further notice. Final farewell to an empty KICKING STONES, the end of an era, before the quiet bus ride back home.
(
A few digital pix from my new SONY Cyber-Shot...
Collapse
)