I spent most of Xmas Eve drawing THE QUITTER. When I realized I wouldn't be able to make holiday dinner plans with anybody, I put THE DIRTY DOZEN on and soaked in Lee Marvin's stealthy manifesto as he shaped twelve men on death row into a team of compassionate fuck-ups with a final cause. Breaks my heart. I finally left my drawing board @9:30PM only to walk in the bitter cold to Zombie Hut where Eric the bartender had me wrap gifts for his girlfriend and family. There was barely a customer. Not even a mouse.
Woke up Xmas morning to a call from Harvey Pekar. He digs my inks but likes my pencils better. I complained that, by the time I get to inking these damned QUITTER pages, it's my third go at the page, what with layouts having sucked the spontaneous energy from the project. And, succumbing to the various stages of editorial approval, I start to lose interest by the time brush hits bristol. He was pushing buttons on the wrong day. I wished him a "Merry Christmas" and Harvey said, "I don't give a shit about Christmas!" I told the old curmudgeon I needed to get more sleep.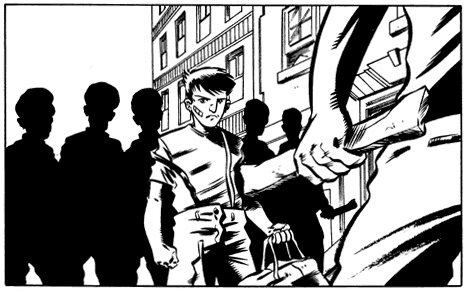 I hit the sack and didn't want to know nothing from anything. Not a thing. I wasn't up for science nor experience. I wanted to be null and void. That lasted about an hour. I read a new comic by Geofrey Darrow called SHAOLIN COWBOY which was sparse on plot but abundant on detail and attitude. Exactly what I needed. Psyched for more, I read one of the stories in Richard Corben's SOLO turn, a SPECTRE tale written by John Arcudi, which may be the best 10pp SPECTRE story written to date. Inspired, I left my bed for coffee.
Sitting in my living room for a week were three unopened packages. Two from my mother. One from Inverna. Like how we watch the TV show 24, I called my mom up and opened my gifts as if she were sitting right next to me. I scored a beautiful copper toaster [my first ever] and a new set of copper lined pots & pans [my first ever]. Having been the recipient of many a hand me down, it was refreshing to get new metal for me to break in. My mother was quite happy with my few gifts of THE MARY TYLER MOORE SHOW - Season One, Harvey Pekar's MY MOVIE YEAR, and an Aerolatte steam-free MILK FROTHER [with stand]. Inverna furnished me with a NEUVEO LATINO cd and BATMAN COLLECTED, a magnificent book by Chip Kidd & Geoff Spear. I got Inverna two international comix collections, one by artist Anna Sommer, and another by Norwegian cartoonist, Jason. I called my brother and father and wished them swell tidings.
I met up with
eyehawk
and his son, Ian, for pancakes at the only 24-hour diner serving Xmas breakfast and spent the rest of Xmas day hanging at SBX's friends holiday party near Grand Army Plaza. SBX got me Jefferey Eugenides' MIDDLESEX, which I've heard nothing but rave reviews for. I'd given SBX a copy of Marjane Satrapi's PERSEPOLIS, earlier in the month. Banal holiday banter and gourmet grub kept me at ease for a few hours. Calls from
zegas
[with his gal Sarah], and neighbor Lena, had us meeting up for a midnight drink at Zombie Hut, which was hosting a pigpen of young goofballs and blaring bad rock guitar. Burned my ears and eyes. Met a charming guy who produces a cable TV access show called BIKE TV. He asked me if I rode a bike and would I like to be featured on his show. Goofballs and bad guitar was way too much for my senses. So,
zegas
and his gal came over to my place where we ordered grilled cheese sandwiches [deluxe] from the 24-hour diner and
zegas
insisted on a Vanilla milkshake. Sorry, but milkshake's were meant to be chocolate flavored and mixed with malt. They hadn't seen FINAL DESTINATION 2, so I raised the volume up to fright level and hit play. We cringed and yelped through every damn death. This was the 5th time I've watched the horror movie. Slays me every time.
zegas
and his gal split and I checked my email. Jenn's son, Severin, wrote me a Xmas letter.
I fell adrift.