The three A-OKAY COOL episodes I created [
http://64.23.98.142/deanhaspiel/samples/AOK.preview.html]
is for AdHouse Books' upcoming anthology. Look for it February 2005, around the same time DC Comics plans to drop BIZARRO WORLD [of which I have a collaboration w/Harvey Pekar]. Both books should spark and interesting war of sensibilities.
Here is the official AdHouse Books skinny: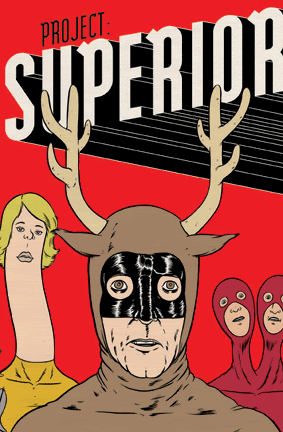 PROJECT: SUPERIOR
by various and published by AdHouse Books [
http://www.adhousebooks.com/]
What could possibly be cooler than space & robots? How about SUPER HEROES? Or should I say PROJECT: SUPERIOR. (Legal disclaimer: Say "SUPERIOR" out loud, it kind of sounds like superhero!) Chris Pitzer has decided to re-visit the "project" anthology and has challenged some of his favorite indy comics and alternative artist creators to work within this theme.See below for a full list of contributors! Ships in February of 2005.
4C wrap-around cover by Paul Hornschemeier
288 4C & 2C pages
6" x 9" perfect bound
$19.95 US funds
ISBN 0-9721794-8-8
Shipping in February 2005
Diamond order #: TBD
Superior Preview of AFRODISIAC by Jim Rugg and Brian Maruca:
http://www.streetangelcomics.com/superior.htm
creators...
Nick Abadzis | Graham Annable | Tim Biskup | Jeffrey Brown | J. Chris Campbell | Scott Campbell | John Cassaday | Ronnie del Carmen | Victor Cayro | Martin Cendreda | Tony Consiglio | J. W. Cotter | Farel Dalrymple | Mike Dawson | Doug Fraser | Paul Hornschemeier | James Jean | R. Kikuo Johnson | Nathan Jurevicius | Dean Haspiel | Seonna Hong | John Kerschbaum | Daniel Krall | Jason Lex | John Lucas | Jim Mahfood | Brian Maruca | Tara McPherson | Scott Morse | Bryan Lee O'Malley | Onsmith | Chris Pitzer | Paul Pope | Joel Priddy | Ragnar | Paul Rivoche | Jim Rugg | Jay Ryan | Fermin Solis | Zack Soto | Jeremy Tankard | Jamie Tanner | Rob Ullman | Megan Whitmarsh | Brian Wood