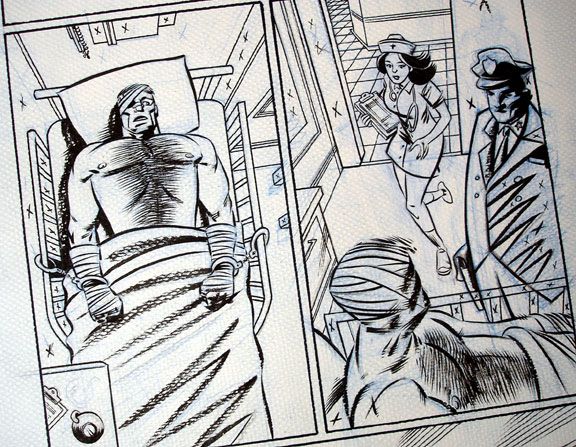 The last two days was a return to the chaos of culture and life in NYC, which started Thursday morning when my mother arrived in her jeep and scooped me up to buy me DVD and CD shelves on Smith street. We rendezvoused with
zegas who helped secure the shelves and bring 'em up to my apartment. Ten minutes later we were off to El Huipel in Red Hook for authentic Mexican food and mole sauce where mom showed me a heart-warming photo album she made about my late brother, Mike. Afterwards, we came back to my apartment and arranged DVDs before
zegas hit the art table and mom went to work on my kitchen, streamlining and cleaning it with expert moxie.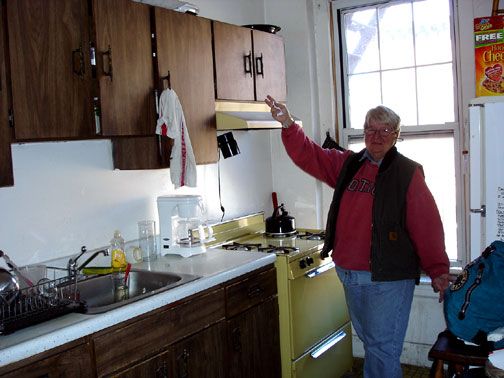 I hardly finished the last panel on my latest page for FALLOUT - Part 3, before it was time to hop back in the jeep and pick up SBX for an early evening "Eat, Drink, and Be Literary" dinner buffet at BAMCafe [Brooklyn Academy of Music] to see and hear SBX's favorite author Julian Barnes read and discuss life as an English writer. Two weeks previous, SBX had sparked a parlay with Mr. Barnes for a secret project so I knew I would probably share a few words with the great talent. Never having read the man's work before [bar the few times SBX read me choice Barnes passages], I picked up his collection, A HISTORY OF THE WORLD IN 10 1/2 CHAPTERS, at the cafe bookstore. Barnes' excerpt of ARTHUR & GEORGE proved to be intriguing, as was his interview. When the discussion was opened to the audience, the Q&A quickly turned to typical sycophantic queries and adoration. Still, Barnes held noble court showing off his regal nature and soon realized I shared certain similarities with the 50-year old novelist. It seems his career, albeit successful, has been a hard one to market and readers can't peg his diversified "oeuvre" [a word he abhors]. When I met Julian, he was reserved yet very nice and appreciated the copy of THE QUITTER for which I inscribed to him:

To Julian,
You are my girlfriend's favorite author. You please her in ways I never could. I am honored to finally meet and read you. Never quit.
--Dino, 2006, Brooklyn, NY

SBX and I walked in the brisk cold to Park Slope's THE CHOCOLATE ROOM where she ordered a cup of hot chocolate in the form of black napalm, searing her mouth and tongue while I indulged a hot brownie sundae with mint-chocolate chip ice cream. My mother met up with us in her jeep post-Vietnamese dinner with friends in lower-Manhattan, and we dropped SBX off at her home and headed back to my apartment for late night talk shows on HDTV.

I woke up early Friday morning to fresh-squeezed orange juice, coffee and bagel, after having had an unfit sleep suffering the skewed angles of my hand-me-down futon so that my mother could rest in the comfort of my bed. After buying me a new coffee maker, mom split for the Catskills and
dangoldman came over to plug in for a productive work day. I managed to nail that last FALLOUT panel and started a new page while we listened to bootlegs of raw BEASTIE BOYS tunes courtesy of
marcw. Around 8pm,
dangoldman's girlfriend Lilli came over for a cocktail and we broke out the gin and whiskey while listening to '80s dance music and wrapping up our work. We hopped the G-train to Williamsburg where the WORDS AND PICTURES opening reception at Secret Project Robot was happening with comix art and drawings by David Heatley, Lauren Weinstein, Gary Panter, Sara Varon, Michael Kupperman, Paul Hornschemeier, Jeffrey Brown, Alex Fellows, Sakura Maku, Richard Hahn, Leslie Stein, Fay Ryu, Arik Moonhawk, and Roper Mickey Duzji.

I gave
leborcham a copy of ALL-STAR SUPERMAN #1 which she had egregiously missed when it was first released and was off to experience the super-psychedelic erotica of Grant Morrison and Frank Quitely in the privacy of her own home.
purvision made and gifted me a spiral bound layout book designed to my specifications which was unexpected yet extremely kind. I hugged illustrator Rami Efal and Eric Saul showed up to complete the evening's posse. We all chuckled at a one-page comic by Hornschemeier that brilliantly employed the tools of the "done-in-one-page" comix challenge.

Then,
jennydevildoll came up to me and wondered if I advocated rape. ??? I was taken aback.
jennydevildoll had read the NY Press profile that
mollycrabapple wrote about me [http://www.nypress.com/19/4/pagetwo/conterfeit.cfm] and mistook the term "rape/kiss" to mean something violent rather than passionate. I can see how that sensational term could blur lines and polarize people but I assured her it was not meant to champion violence. Unfortunately, the NY Press profile was edited down by half its original size and left little room to better understand the crux of my philosophical discussion with
mollycrabapple. I was talking about modernizing the bruiser/dame romances of 1950s movies and novels into my new creator-owned fare, citing the famous love scene in ON THE WATERFRONT between Marlon Brando and Eva Marie Saint as one of my favorite cinematic tensions and truths. In describing the brutal passion of that scene, the term "rape/kiss" was used as a short-hand to describe the sensibility. A short-hand
mollycrabapple later used to caramelize a larger discussion we'd had that didn't make the final cut. And, like the word "nigger," the word "rape," even with a qualifier, never sits well and tends to derail any profile or thesis no matter the context.

However, it doesn't mean that certain peers should feel it necessary to quote such a term out of context in order to make fun of me. That's insincere and a cheap shot.

Later, I discussed the WORDS AND PICTURES show with cartoonist/curator Leslie Stein and pimped the virtues of Blogging. Before we split, I caught up with the ever talented and adorable, Sara Varon, who is currently working closely with amateur pugilists that sounded like my kind of part-time gig. Needing a drink, the group split and grabbed one at a lame bar with an unpronounceable name while REM's "worst album" played in stereo. Does REM have a "good album?" So, we left after a round of grilled cheese and tomato sandwiches and made our way over to Black Betty's where the DJ was spinning old school funk and disco. A drunk, blond albino woman captured the attention of Spanish thugs while Prince's "Kiss" made everybody grind their hips in and around the designated dance floor. The group dwindled and Eric and I sat on stools at the bar. We smiled at all the 20-something's as they drank, danced, slipped, bumped and hooked-up. The energy of that room stayed with me as I enjoyed the requisite half-hour wait for the G-train ride back home.