I got a call from one of my favorite art directors at NICKELODEON Magazine last week, asking me to draw the April spot illo for the "Letters to the Editors" banner. It seems they switch up the themes every issue and this was the description for what they wanted:

"A sci-fi mailman delivering letters to people via jet-pack. He's blasting over houses and dropping the letters to the people below. I think that it should be a retro-comic concept but the art should look contemporary."


Naturally, the first thing that came to my mind was DC Comics' ADAM STRANGE, what with his retro-space outfit and jet-pack. So, I flipped through my ADAM STRANGE archive and studied how other cartoonists handled the mechanics of that unwieldly jet-pack.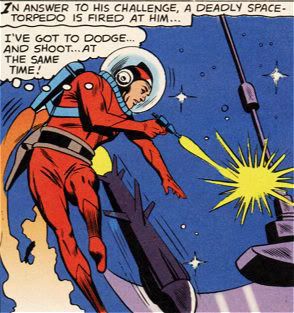 [Adam Strange published by DC Comics]

Then, I streamlined the concept in my head, drew four layouts that would fit within the small space, and left it up to the art director to pick his favorite. For what it's worth, I was partial to sketch #4: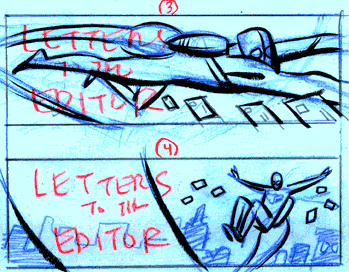 Once a layout was chosen, I pencilled the image for approval: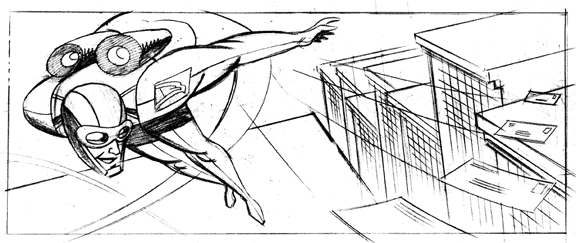 I mistakenly drew the dimensions wrong, as proven by the art director when he popped in the dummy LOGO, and some constructive comments were made to modify the drawing: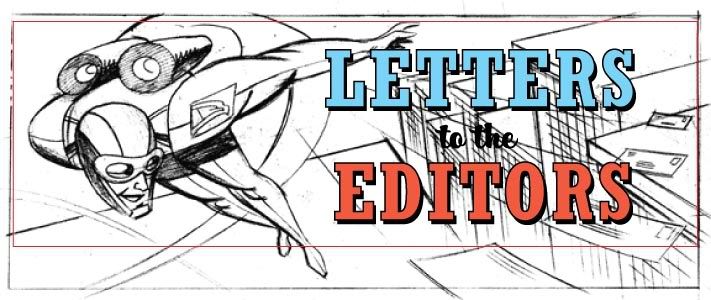 So, I made the changes and adjusted the elements of the final art in Photoshop before I went to digital colors and finishes:





And, that's one way to draw a "Letters to the Editors" banner for NICKELODEON Magazine, the best in kidz comix. If you don't have a subscription for you and/or your children, you're doing a disservice to mankind.