Friday night, I went to see Peter Jackson's KING KONG w/SBX in Park Slope. The first act could've been trimmed by half-an-hour and swiftly cut to the Skull Island chase. We only care about the major players so let's not pretend we need to know back-story and motivation for ship mates. Come act two and we get the most thrilling jungle adventure chase, equal parts comedy and horror, ever committed to cinema. A full hour. KONG's personality is perfectly imagined. A savage bruiser who trades fisticuffs all day so he can watch the sunset in peace. Only now, he's involved a dame. Then, we're allowed a brief respite as KONG is bamboozled and emasculated by mankind only to break his bonds and show NYC what's what until "beauty" kills the "beast." The greatest story ever told in all its primitive high-romance glory. KING KONG is my LORD OF THE RINGS trilogy packed into one mythological epic.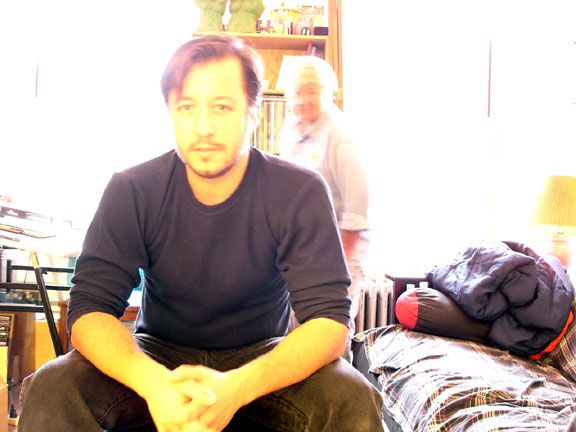 Speaking of "Kings," Saturday morning I got an email from Rocketship, who had a banner week in sales, asking me to swing by for some holiday mirth. So, once my mother arrived in her jeep we split for Hope & Anchor lunch in Red Hook and drove over to Rocketship where Alex handed me the totem of a KING, one I would never have dared landed for myself, complimented by a bottle of amber gold the likes I haven't enjoyed since my SUNY Purchase days.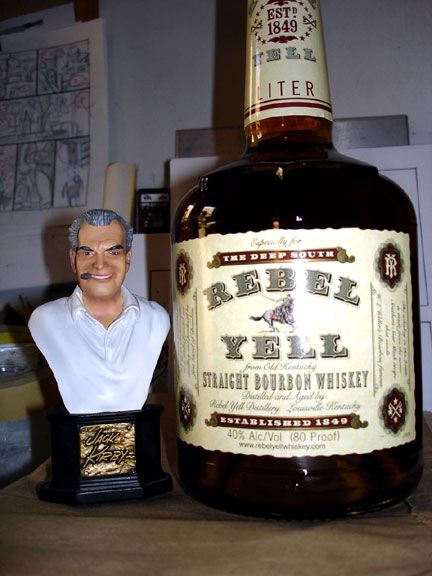 [Jack Kirby bust and Rebel Yell whiskey]

The rest of Saturday had mom and I opening some boxes from my brother's estate, revealing an expert's inventory of rock music, heavy metal, and choice DVDs. Despite the glam rock and death metal, it was heart-warming to discover similar likes. After three or so of those, we split in the jeep for a family meet & greet w/SBX, and grabbed the girls for the most indulgent house buffet I've encountered in years. Meredith's father [SBX's best pal], was throwing his annual holiday party where a deep fryer was in full effect and Italian dishes of every denomination filled buffet trays throughout the night. The house was a thriving ant farm of hungry people while kids played video games and pinball machines upstairs. The food, wine, and desert high got us woozy as SBX and every woman within eye-shot of the TV swooned over Josh Lucas in SWEET HOME ALABAMA. An alpha-male inspired executive decision had us back in mom's jeep and back home so SBX and I could secretly wrap Santa's presents for the girls while slapping knees to THERE'S SOMETHING ABOUT MARY.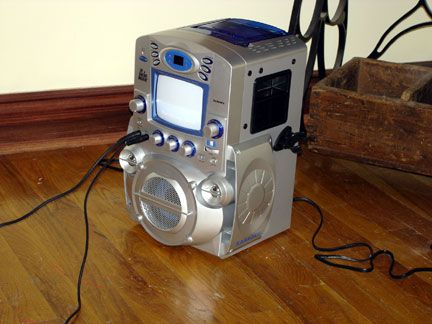 I set up the Karaoke Machine I'd bought SBX for her birthday and we test ran it. Come hell or high water, my ear drums would pay for such sonic holocaust, 24-hours later, when the rest of the family would come to take their turns at the microphone for X-mas carols and pop songs.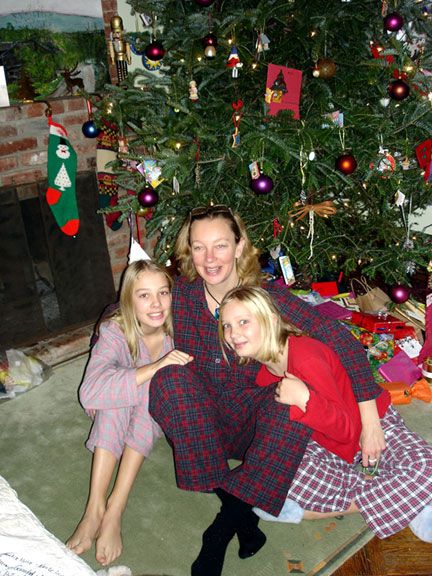 [The Haze, SBX, and Ola]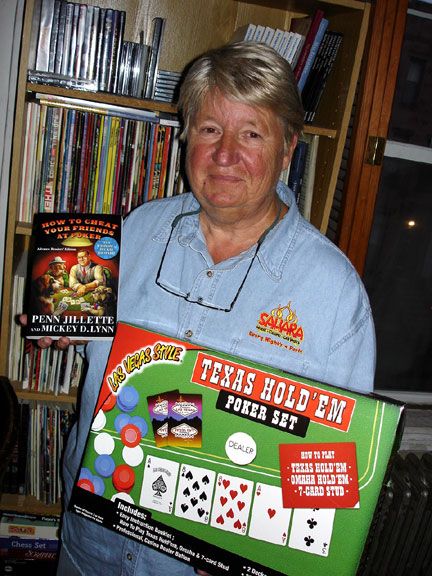 [Casino Mama]

We were woken up early Sunday morning to the squeals of young girls begging to open their X-mas gifts. A cup of coffee was brought to me in bed in hopes that my eyes would crack open. Grumpy, I rallied and slid into the X-mas spirit as best I could muster on 5-hours sleep. Mom came over with a fresh copy of The NY Times with my rave book review for THE QUITTER, and gifts were ripped wide open to screams of teenage and geriatric joy ricocheting off the brick & mortar.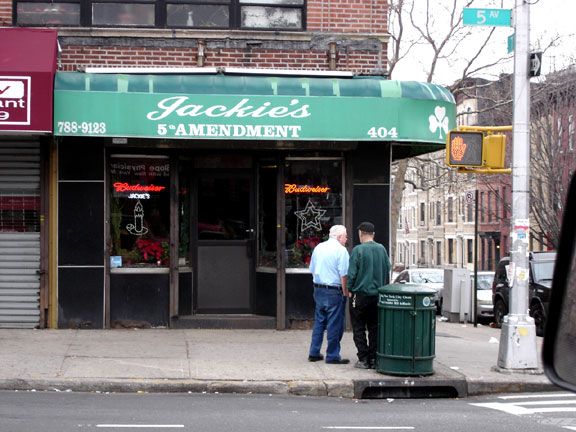 [a cop and a thief take a smoke break outside their local Irish pub @12pm, X-mas day]

After a deluge of merriment, my casino laden mom and I skipped out for groceries at the only open Spanish market across the street from Jackie's 5th Amendment. I hankered to cook macaroni & cheese and we got down to brass tacks in my kitchen at home while opening up a bunch more of my brother's stuff to a PORTISHEAD concert on DVD. Armed with two tins full of pasta frommage, we rendezvoused at Helen and Robert's home, next door neighbor's to SBX, where a spread of gourmet food was made manifest and our bellies treated to a series of courses which included: brussel sprouts, green beans & turnips, orange glazed duck, rosemary chicken, shrimp curry, roast beef, spinach lasagna, Yorkshire pudding, and a gaggle of baked deserts. The two days of rich grub became a feast of burden when we finally moved back over to SBX's for Karaoke. Or, maybe it was the Karaoke that did me in? I don't know and it didn't matter -- as long as the parents and girls were having a blast. And, that's the point, ain't it, big guy?



[SBX and her parents jingle all the way]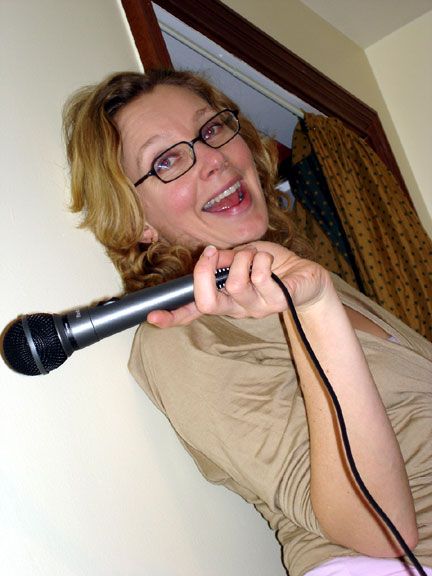 [SBX gets her groove on]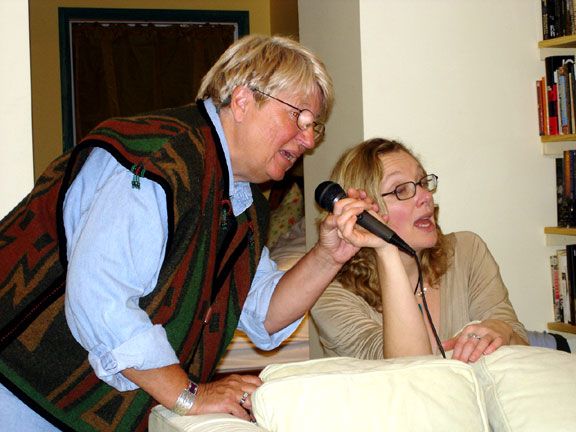 [Mom and SBX take over as I take cover]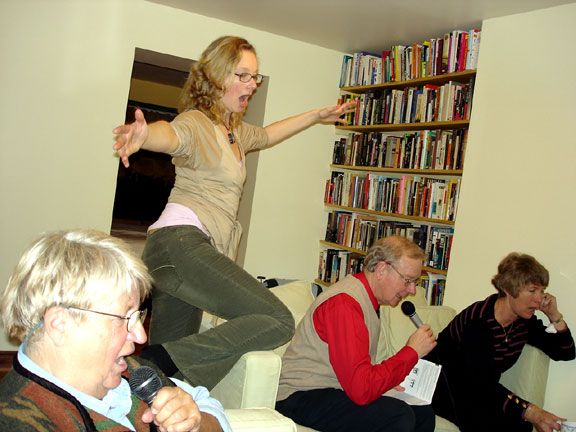 [And then the room goes buck nutty with Karaoke delight]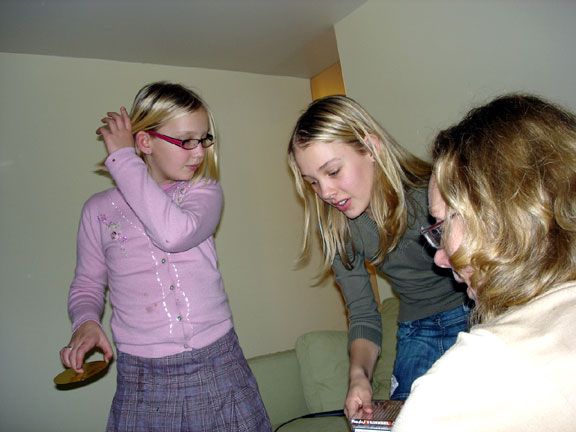 [The girls decide to get in on the action]


[Sassy Ola sporting new eye ware]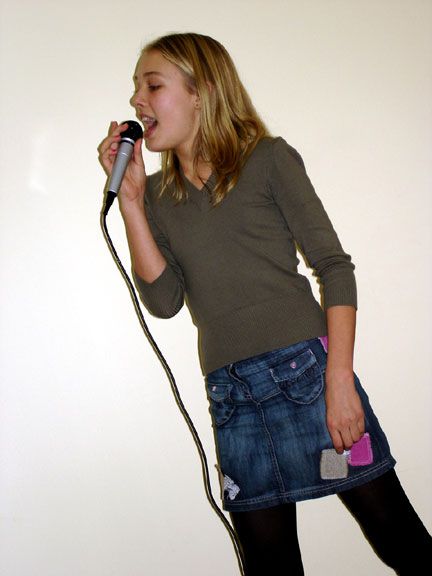 [Hep Hazel showing us how it's done]

Despite hard feelings for the recent loss of my brother Mike, and an angry father who couldn't pick up the phone when I called to wish him a happy holiday, mom and I managed to have a great X-mas with SBX & family & friends.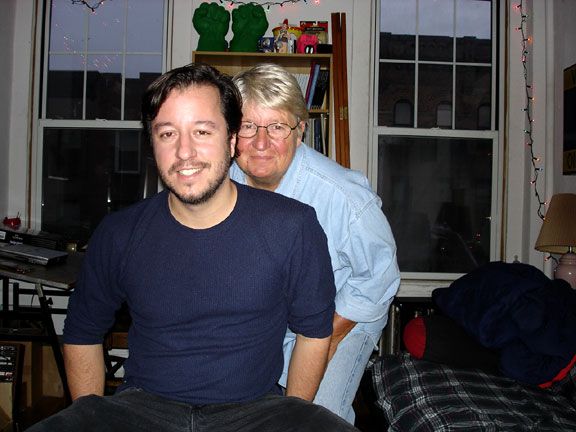 [And that's how we do]