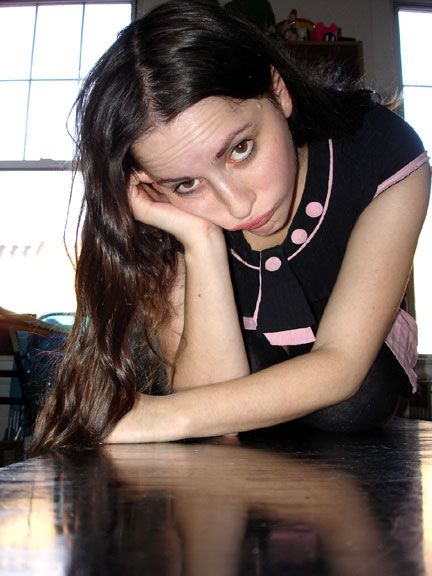 The multi-talented and beautiful
mollycrabapple came over and interviewed me for her new column at NY Press. Check out her article on Neckface: http://www.nypress.com/18/49/pagetwo/counterfeit2detection.cfm

We discussed career origins, comix, movies, illustration, heroes, and the lost art of macho romance; when men were bruisers and women were dames. When there used to be a healthy hierarchy between the sexes and the intellectualizing of romance hadn't inundated our over-analytical culture.
mollycrabapple qualified that there was nothing noble about the blue collar nature of love and work. And, having grown up a middle-class white boy in the upper west side melting pot of Manhattan, I could only concede to her educated declaration. We agreed there was something universal missing these days between men and women. Molly felt the current "Emo-boy" crop of her 20-something male peers was a chronic shame, bordering on misogyny, and we shared a sad laugh. I reminded Molly how embarrassingly talented and sexy her anti-Emo beaux,
deadredfred, was and we cheered to a hot cup of Maxwell House coffee, the fake-energy booster for all determined freelancers.

Maybe I'm daydreaming of a past that was never fully realized but I couldn't shake the cinematic noir of Brando breaking down that door in ON THE WATERFRONT so he could smash-kiss Eva Marie Saint in the face because there was no other way to go about it.