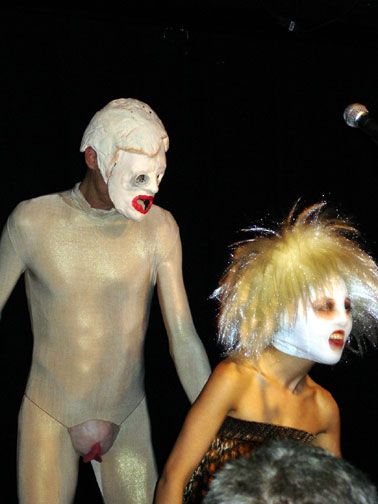 [The Mangina and Valmonte Sprout melt your mind at The Jonathan Ames Show]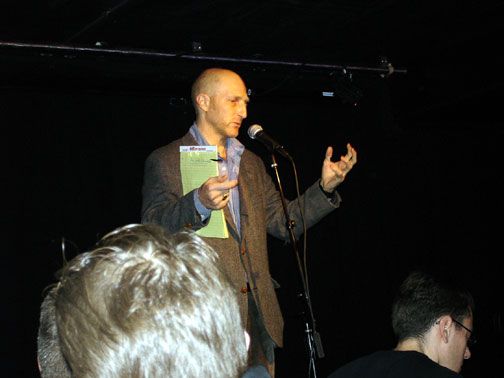 [Ames holds court]

If David Lynch were to direct underground vaudeville, it might could play out something like the bizarre acts found at The Jonathan Ames Show. Ames was kind enough to reserve me a table in the very packed Mo Pitkins venue upstairs and I sat with pals Eric S, Sarah R, and Moby, among others. It was a 2-hour extravaganza filled with humor, hula hoops, magic, and the erotic horror of The Mangina and his paramour, Valmonte Sprout. Stuckey & Murray played their gay mock folk music that always bring me smirks, especially when they sing about unicorn love, and Reverend Jen, along with her bug-eyed puppy Rev. Jen Jr., read her manifesto about the Feministic Paganism lurking within the stop motion cartoons of those Jules Bass & Arthur Rankin Jr. produced 1960s Xmas classics. Miss Saturn captured the crowd with her masterful hula hooping and Murray Hill berated everybody like Red Buttons by way of Oliver Hardy. Zero Boy ended the evening with the political vibrato of his super-plastic semi-elastic vocal chords.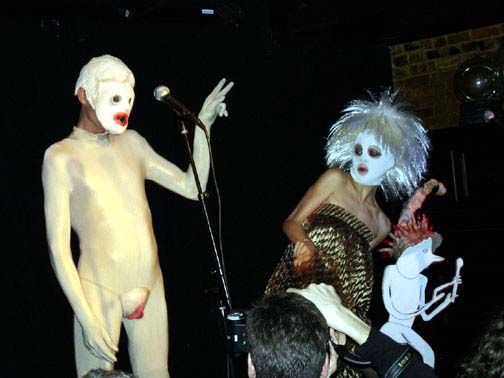 [The Mangina and Valmonte Sprout freaking out]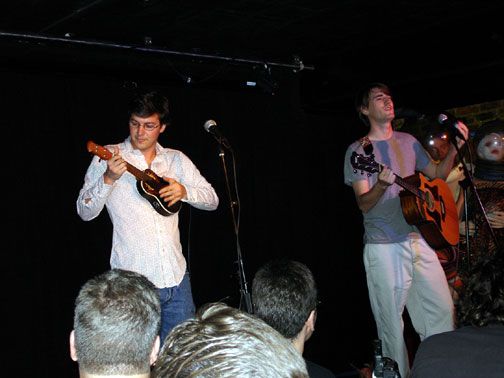 [Stuckey & Murray]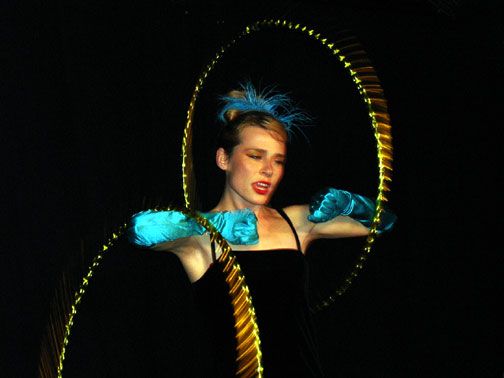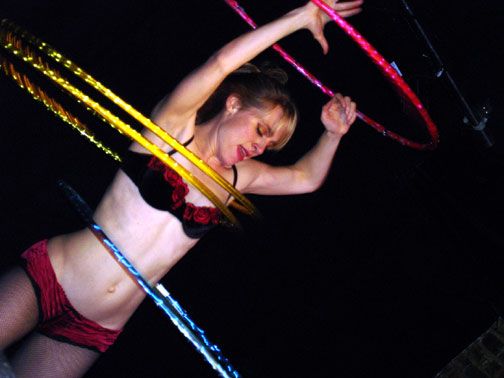 [Miss Saturn]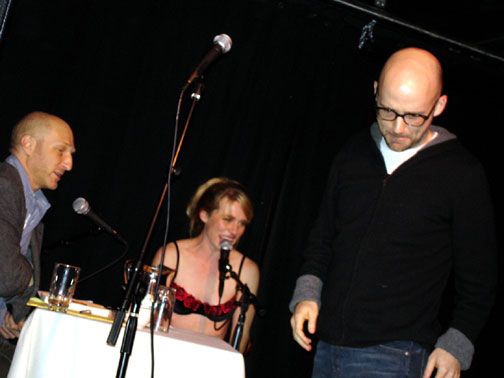 [Ames, Saturn, and Moby]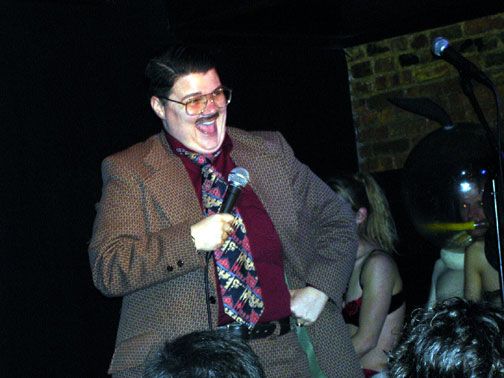 [Murray Hill]

Then, Ames, Eric S, Miss Saturn, Reverend Jen, Moby, and a slew of folks congregated downstairs for dinner. Moby kept me supplied with Maker's Mark and I told him how much I cherished the "ambient" side of his recent album, HOTEL. He was flattered and admitted that was the only disc of his he plays for himself on regular rotation. I asked him to make more music like that. We toasted to the blasphemous movie we got bamboozled into making, ALIEN SEX PARTY [for our mutual pal/film maker Paul Yates], and before splitting Mo's, bumped into Jessa Crispin aka Book Slut. Ames, a shameless knight in rubber armor, drove a bunch of us to our final destinations in the torrential rain.

The next day I rendezvoused with NY Times / children's book illustrator Stephen Savage at Rocketship for a meet & greet, new comix, and the signing of Scandinavian cartoonist Martin Kellerman for his Fantagraphics debut of ROCKY. Fans of Bagge and Crumb will dig Kellerman's comix. I would've gone to dinner with the out-of-towner's but a new episode of LOST was on. I don't do Tivo and SBX was waiting for me to indulge our weekly hour of TV. Something she might be morally against but is highly addicted to like the rest of the world. And, now, I've got my mom seduced by LOST, too. So there.