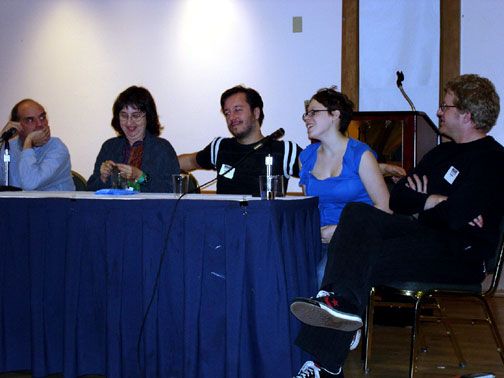 [Pekar, Brabner, Haspiel, Danielle, & Neufeld, at The National / Big Apple Comicon]


I barely attended The National/Big Apple Comicon like I was scheduled to. The sudden loss of my brother knocked me down for the count and I spent most of those first few days huddled with SBX, talking logistics with my parents, fielding heavy phone calls, and sharing old stories with good friends. Feeling punchy by the mourning process,
zegas rallied me to swing by the convention with him for the last hour on Saturday so we could ogle original art by Kirby, Wood, Ditko, Romita, etc.

I got to meet FRANK cartoonist Jim Woodring, and legendary JOKER and ROBIN ~ THE BOY WONDER co-creator Jerry Robinson. I caught up with comix cohorts Charles Brownstein, Heidi MacDonald, Rick Altergott, Ariel Bordeaux, Danielle Corsetto,
incogvito, and Walter Simonson; who showed me gorgeous art from ELRIC, and a sneak-peek of the upcoming HAWKGIRL comic he's writing for DC Comics, superbly drawn by Howard Chaykin.

I spent a few hours at the show on Sunday, too, where I sat between
4_eyez and ALIAS artist Michael Gaydos, and signed copies of THE QUITTER with Harvey Pekar, while showing off the first chapter of FALLOUT, my new super-noir for Speakeasy Comics' BEOWULF back-up feature.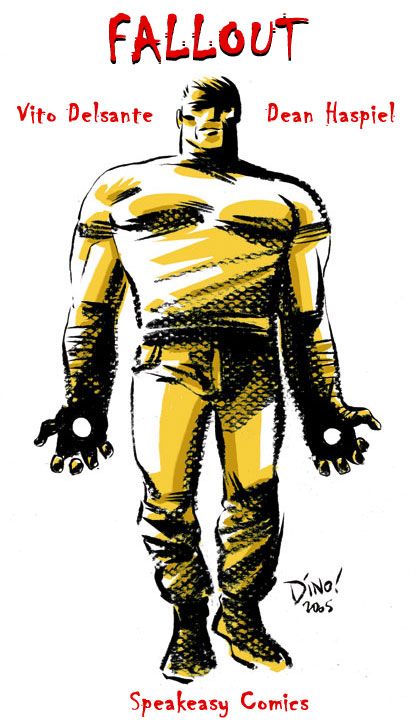 For fans, I cranked out some quick sketch requests of Harvey Pekar, Agent Graves from 100 BULLETS, and X-MEN's Colossus. Then, SBX and her daughters arrived for the "American Splendor" panel where Pekar & family,
4_eyez and I, discussed the history of Pekar's self-made franchise. One query posited the experimental challenge of performing a "Rashomon" inspired issue of AMERICAN SPLENDOR wherein Pekar, Brabner, and Danielle, write their unique version of a shared event for three different artists to interpret.

When we got back to the signing table, actors Owen & Kevin Kline came by and we walked around snooping for bootlegged DVDs together while talking about the art of narrative structure. Then,
4_eyez and I shared silly STAR WARS jokes with Rocketship's Alex Cox before splitting the show outside to the fraught madness of Madison Square Garden for a criminally disappointing tourist trap Gyro made from canned crap on a spit. Still, despite my delinquent convention attendance, it was good for me to get out, mingle, and distract myself from sad feelings for a small while.