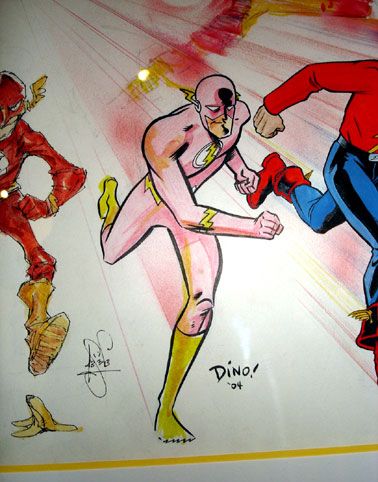 In recognition for his dedication and contributions to the Museum of Comic and Cartoon Art, MoCCA presented Christopher "Kip" Forbes with a specially commissioned piece depicting his favorite comics character, The Flash, in a surprise ceremony at the museum this afternoon @2:30pm.

The piece was two years in the making and the event was celebrated by a select group of MoCCA staff, including honoree Christopher Forbes, MoCCA Chairmen Lawrence Klein, MoCCA officer Ken Wong, MoCCA Board of Trustee Jim Salicrup, NY Times Op Ed art director/illustrator Steven Guarnaccia, cartoonist/illustrator Bill Sienkiewicz, actor Roger Rees, and myself.

Kip was very gracious and it was a nice way to thank someone of his magnitude with the simple art of comix. I asked Kip if he was planning to hang the Flash piece over his office desk and he said he would consider replacing his portrait of Napoleon. We all laughed.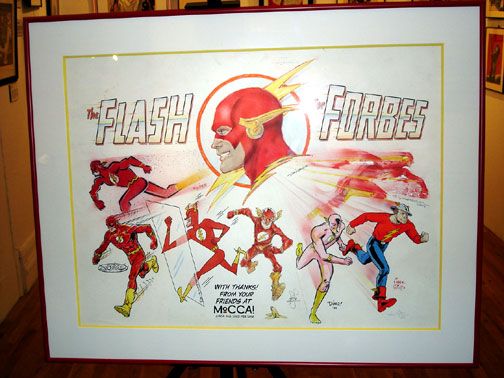 [Flash piece illustrated by [L to R]: Peter Kuper, John Byrne, Steven Guarnaccia, ???, Dean Haspiel, Amanda Conner inked by Jimmy Palmiotti, Bill Sienkiewicz, center portrait pencilled by Carmine Infantino inked by Bill Sienkiewicz]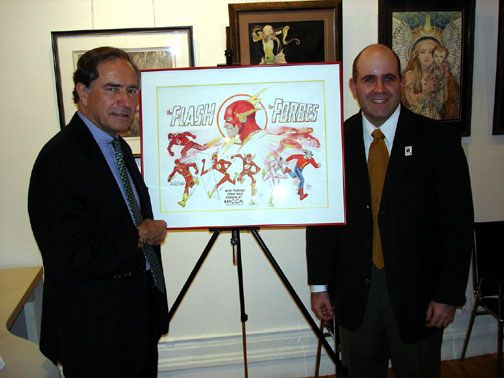 ["Kip" Forbes and MoCCA Chairman Lawrence Klein unveil the Flash gift]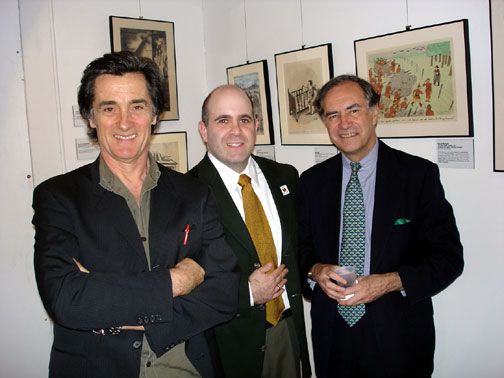 [Actor Roger Rees, Lawrence Klein, and Kip Forbes]