This past Thursday, SBX's best friend's mother suffered a sudden stroke that required immediate brain surgery which, unfortunately, yielded no scientific chance of recovery. Because the woman had written no living will, the awful conundrum of "what to do?" put her daughters in a compromised position having to make the big decisions to questions that are nearly impossible to answer. Naturally, SBX decided to cancel her birthday plans to spend most of the weekend at the side of her best friend's family in a Bronx hospital while I met my obligations at both scheduled signing's with
brianwood. Despite the terrible news derailing the entire weekend and coloring my mind, we shared successful comix events at both Rocketship and R!OT, where I got to meet a slew of new comix connoisseurs and celebrate my latest efforts with friends.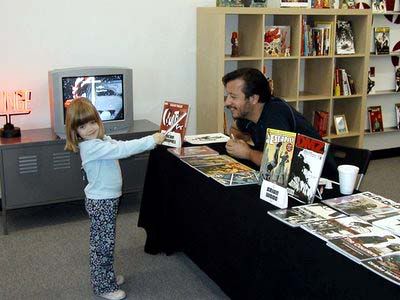 For brief reports and pictures, please visit:
http://rocketshipstore.blogspot.com/2005/11/haspiel-and-wood-signing-threat-or.html

http://comicriot.blogspot.com/2005/11/best-day-ever.html

http://panelsandpixels.blogspot.com/2005/11/haspiel-wood-sign-comics-just-for-me.html

I spent a difficult Sunday at the hospital with SBX to help ease her pals pain, rub shoulders, share stories, and say 'goodbye' to the family friend when they disconnected her from life support. As of this writing, her body still breathes on its own even though her mind left us four days ago. The human spirit is a powerful specter. If I learned anything this weekend it's the importance of writing a living will.

Thanks to everyone who came out to celebrate and support the new books. I apologize if I seemed to be out to lunch.