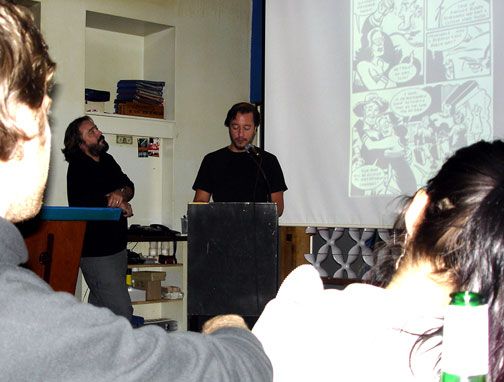 Last nights sophomore effort of The Needle Exchange was my first experience reading prose aloud to a live audience. I read comix out loud once at Co/mix De/code [http://www.artbabe.com/comixdecode/], so I had a fairly good idea of what to expect, but reading excerpts of my upcoming book, Post-Disaster Adventure Chronicles, made me nervous. It was weird relying on the power of text alone but reading "Breathe" and "Master Plan" gave me insight for setting vocal pace and vibing off listeners reaction. Admittedly, my choices were dramatic with little room for audience chuckles and sighs, but I dug holding court and sharing slices of life. I have newfound respect for my writer pals
digitante and Jonathan Ames, etc., who do this on a regular basis. It brings a whole new set of performance tools I rarely flex.




biffsatan started the exchange with a free style form sans pre-written crutch where he waxed the pros and cons of navel gazing vs. the four horsemen of the apocalypse. Then I read three comix from Opposable Thumbs and Aim to Dazzle before
digitante and I swapped prose turns.
digitante read two nice pieces, including one of my faves "Anabel," and then the evening ended with the stealthy hilarity of Mike Faloon, who won everybody over with his treacherous tale of working in fast food culture.

The exchange lasted a meaty hour and it's safe to declare that the World Series kept all sports fans at bay, but the turn out wasn't too shabby. Bob Fingerman and his lovely wife Michele showed up, as did my girl, SBX. LJ pals and gals represented:
dangoldman,
labrujah,
portermcd,
leighmcd, and
cbrownstein. Overall, I'd say it was a clinical success with room to improve the topsy-turvy nature of such anthology oriented culture.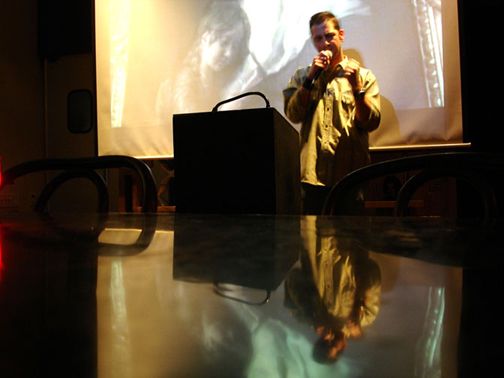 [
biffsatan]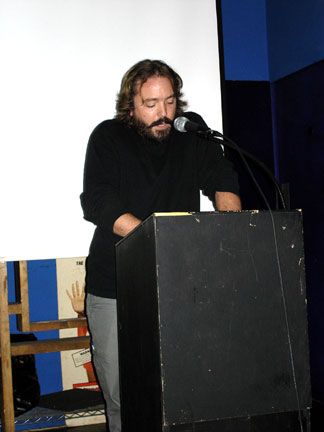 [
digitante]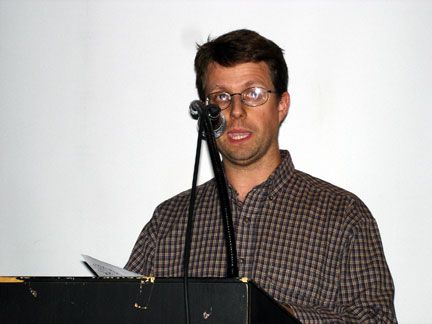 [Mike Faloon]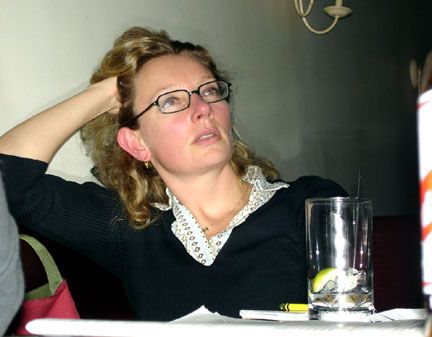 [SBX]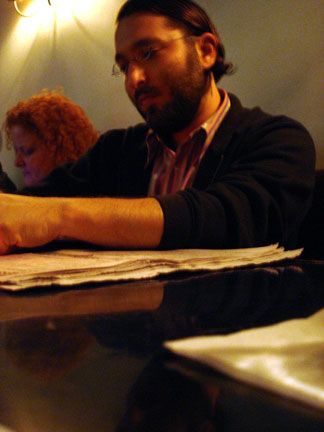 [
dangoldman]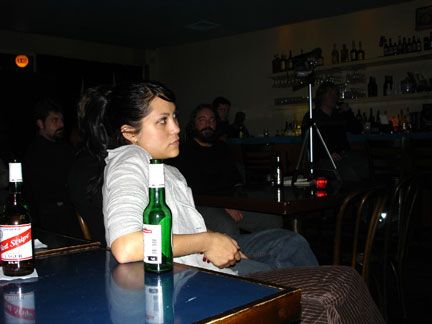 [
labrujah]